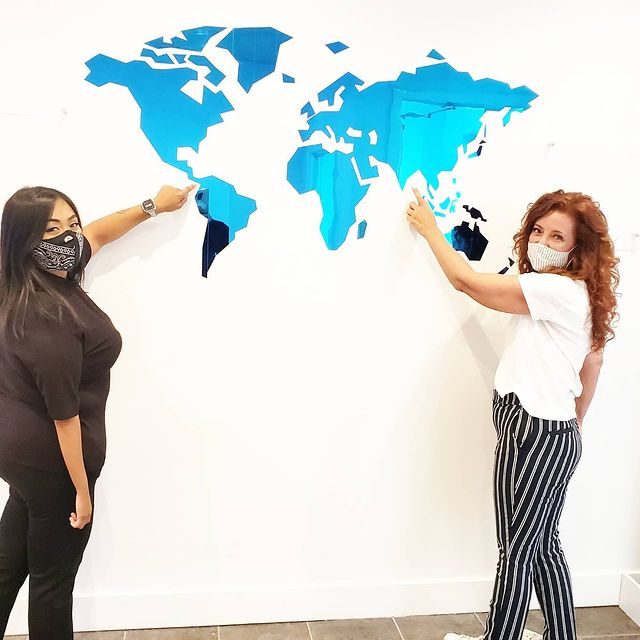 Become A GLOW Partner
Recognized worldwide, GLOW College of Artistic Design is an Award Winning Institute with three Ontario Campus locations, Government Approvals, Industry credentials, dedicated Leaders, and a faculty of qualified Instructors.
Why to join the
GLOW's
affiliate program
---
> Become a part of an Active Community of Educators
> Admissions Team Training Support and Weekly Live Orientations
> Streamlined Enrollment Process
> Marketing and Branding assistance
> High Earning Potential
> Affiliate Awards and Student Care bonuses
> Quarterly E-Magazine Newsletters. Keep up with news and potentially be featured
> Invitation to Annual Affiliate Conference and events in Canada
You will be a valued partner of the Glow College community!
Hallmark Of Our Affiliate Program
Frequently Asked Questions
WHAT PROGRAMS CAN THE AFFILAITE SCHOOL RUN?
Currently, GLOW College is accepting Affiliate Applications from Schools that can facilitate one or all of the following Art and Design programs. Affiliate Schools are not required to have preexisting programs in these fields as the Curriculum and Training support will be provided. FASHION DESIGN – 3 Month Course in Fashion Illustration and Garment Construction MAKEUP ARTISTRY – 3 Month Course in Bridal and Fashion Makeup Artistry ESTHETICS - 9 Month Course in Nails, Facials, Hair Removal, Makeup, and Body Treatments. DIGITAL ARTS AND MEDIA – 3 Month Course in Social Media Marketing and Content Marketing Complete Program Outlines can be found within the Affiliate agreements.
WHAT VALUE DO AFFILIATE SCHOOLS ADD?
With the dedication of Approved Affiliate Schools, GLOW College's Distance Education Students will be able to build skills and portfolios related to their field of choice right from their home town. The Hybrid learning style of online learning with GLOW College combined with In Person practicals with an Affiliate School is a proven method of supporting Students through their education journey. GLOW College takes Student experiences as priority and works only with established Schools to ensure the wellbeing and career goals of each Student. At this time, the Affiliate Applications Process is open in the follows areas: DUBAI, QATAR, INDIA, NEPAL, BANGLADESH, SRI LANKA, CHINA, JAPAN, KOREA, CARRIBEAN
WHAT ARE THE COSTS RELATED TO BEING AN AFFILIATE?
For 2022 New Affiliates there is no Application Fee or Affiliation Fee for the first year of the Affiliation. Affiliate Schools are required to make personal investments in the set up of the technology, staffing and classroom requirements to run the classes. At the annual renewal of the Affiliation, a fee of $1,000.00 CAD applies to cover the Site Visit, Affiliate Decals as well as Certificate of Affiliation. In order to be considered for Renewal, Affiliates must be in good standing, maintain a high Student feedback rate, as well as maintain a minimum number of enrollments per year.
WHAT IS THE EARNING POTENTIAL FOR AFFILIATES?
The earning potential is high for Affiliates which is why our selection process is rigorous and the standards of education is high. Affiliates are required to genuinely maintain an interest in helping Students build their skills and confidence. The earning potential is an automatic by product of great Student Care. An Average Affiliate can expect to earn based on the number of programs they can facilitate, and the capacity of Students they can accommodate.
WHO CAN APPLY?
Ideal Applicants are established Education Institutes with the necessary Business registrations and licenses required by their respected Countries to operate as a College or University. The Application process requires proof of business registration, reference checks of all listed Directors, as well as Site Visits to ensure Campus criteria is met to facilitate classes. Campus Criteria includes landlord reference checks to ensure no backdues, Classroom inspection to ensure a safe and organized learning environment for Students, as well as Technology check to ensure wifi and screens are available for live admissions process as well as live virtual learning capability for students.
HOW TO APPLY
Complete an Affiliate Application form at
http://www.glowcollegecanada.ca/become-an-affiliate
to tell us more about your Educational Institute. Before submitting your Affiliate Application, please review the criteria listed under Who Can Apply and ensure that you meet all requirements.
APPLICATION REVIEW PROCESS
Once the Affiliate Application is submitted, please allow 7 to 14 days for your Application to be reviewed. Incomplete Applications or Applicants that do not meet the minimum criteria will be discarded. Should you meet the requirements, an Area Developer will be in contact with you for a preliminary phone interview, followed by a scheduled video conference with a Director of GLOW College Canada. The process will continue in reference checks, site visits and ultimately Affiliate On boarding.
AFFILIATE ONBOARDING
The New Affiliate on boarding process includes tremendous support from the India Area Developer Team as well as a combined effort from the Canadian faculty. During the 3 to 4 week on boarding process, Affiliates can expect support in the training of the Admissions process as well as Curriculum training between both Faculties. At the end of the on boarding process, Affiliates will be awarded with an official Window Decal to display, along with a Certificate of Affiliation (based on a 1 year validity), to be clearly displayed at your Campus.
MARKETING AND BRANDING PERMISSIONS
We do not allow our Affiliates to use our logos freely, or run ads using any form or variation of our domain or brand name, or to utilize our trademarked taglines, keywords or product offering names in their bidding strategies, or promote their affiliate link in any way that leads to market or customer confusion. All marketing materials are under direct guidelines provided by GLOW College. Complete Marketing terms of agreement can be found within the Affiliate agreement.
ADMISSIONS PROCESS
The Admissions of New Students is a joint effort between our Affiliate Schools and GLOW College Canada. Affiliates will complete a thorough training process during the on boarding period. The process includes live group orientations with the GLOW College Admissions team where prospective Students will have the opportunity to interact directly with an Admissions Advisor in Canada to learn about the programs as well as to ask questions. All Students are to enroll directly with GLOW College Canada using virtual tools. Receipts will be issued directly to the Student by GLOW College. Affiliates are not to collect any fees from the Student on behalf of GLOW College. Affiliates will be provided with fees at the beginning of each course, as well as at the midway point and upon successful graduation of each Student.
AFFILIATE INVITATION TO CANADA
Affiliates will be invited to Canada once a year to attend Affiliate conferences as well as to attend the Graduate showcase. An invitation letter and admissions ticket to the conference and showcase will be provided. GLOW College will bear the cost of Conference admission and conference meals. Affiliates will be responsible for their own flights, accommodations and related expenses during their visit in Canada. Affiliates are required to manage their own Business Visa application process.
GRADUATE PATHWAYS TO CANADA
At no time shall an Affiliate guarantee Canada gateways to Students. Affiliates are not to discuss Visa options with Students. Only during the initial Admissions Orientation process, an RCIC (Registered Canadian Immigration Consultant) will share Pathway options to Students. Based on the recommendation of the RCIC Consultant, Students may choose to work directly with the Consultant, paying any associated fees and following the application process. GLOW College and its Representatives, and the Affiliates and its Representatives are not to provide any form of consultancy to Students or Graduates regarding the Visa process. Students are to be directed to the RCIC Consultant as well as provided with the Canada website
http://www.canada.ca
Examples of possible Pathways under the Consultancy of the RCIC Consultant include: Study Permit with Public College – Graduates of GLOW College course may use their Portfolio and new skills to apply to a Canadian Public College. This is ideal for Students that are under 30 years old and are financially capable to Study in Canada. Examples of Public College programs can be found on
http://www.gempathways.com
Visitor to Canada – Graduates above 30 years old that are established in India with family, home, or business ties with strong financial means and previous positive travel history can work with the RCIC Consultant to apply for a Visitor Visa for a chance to attend and participate in the annual Showcase at GLOW College Canada.