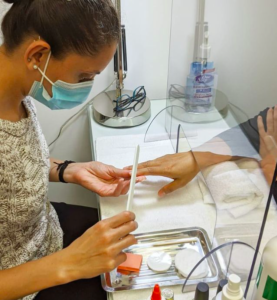 We are one step closer to returning back to class!
**Under the Grey zone framework announced today for the Peel and Toronto regions, Colleges with personal service studies are to remain closed.
As a result, our In Person classes can not resume just yet but moving into the Grey zone is certainly a positive step forward.
While our Toronto and Brampton Campuses remain completely closed, our Kitchener Campus is proceeding with a phased reopening of Nail and Body related classes. Face and Makeup classes are not yet permitted in the current Red zone for Kitchener.
Either way, our Students are effectively learning online until we see eachother again for hands on In Person learning.
Enrollments are open for Online and In Person classes. Class schedules will be prioritized based on Enrollment sequence. Contact us and get on the priority list.
We're nearly there!