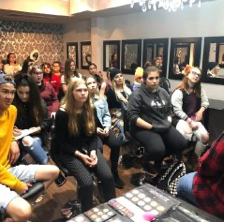 We thoroughly enjoy hosting Group Tours for High School students throughout the year! We arrange group tours, demos, workshops and information sessions at all of our locations across the Greater Toronto Area for High School student groups to attend and learn more about the beauty industry and our available programs. You can never plan your future too soon and we're here to help do our part enlightening these young minds, their educators and/or their guardian in getting them on the right track to pursuing their Beauty Careers!
We can customize your tour experience with us based on what you are looking to accomplish by the end of the session.
If you are an Educator or an individual representing a School Board interested in arranging group tours for students, feel free to reach out and we'd love to help in whatever way we can to help shape the minds of the future, a responsibility we don't take lightly!