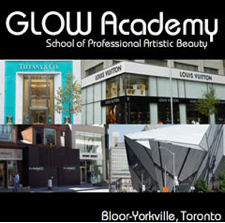 Eeeee its official! You can find GLOW Academy inside of the MAC Cosmetics building  at Bloor-Yorkville Toronto.
Saying good-bye to our Queen and Spadina location, but when the opportunity to share a space with MAC Cosmetics we couldn't say no!
We look forward to giving you a tour. Stay tuned for the party announcement to celebrate our students that deserve only the best. We're sure you'll enjoy our new scenic route to the academy, you'll be able to spot our neighbours  LV, Tiffany and Prada.
We will be offering Makeup, Hair & Aesthetic classes in the new facility. Be sure to contact us to schedule your tour of the new facility and don't forget ask about our start dates at the new location.