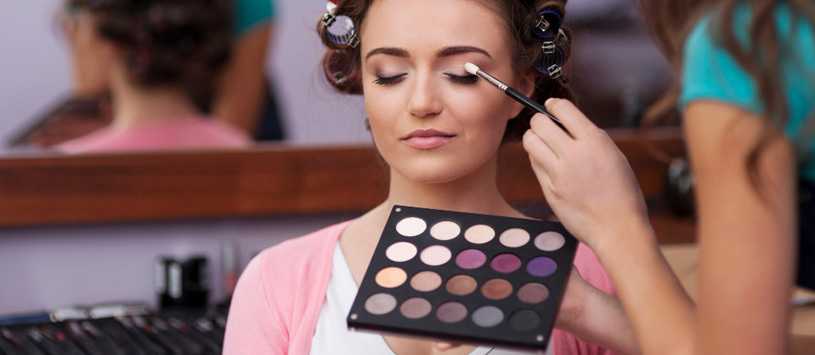 The world of makeup is ever-changing, with new trends popping up all the time. As we look ahead to 2023, we can expect to see some exciting new makeup trends emerging. In this post, we'll be discussing the top 10 makeup trends for 2023, so you can stay ahead of the curve and rock the latest looks. 
Graphic eyeliner

: Graphic eyeliner is a bold and edgy look that involves creating graphic shapes and designs around the eyes using eyeliner.

 

Monochromatic makeup:

Monochromatic makeup involves using the same color palette for your eyes, lips, and cheeks to create a cohesive, harmonious look.

 

Bold lips:

Bold lips are making a comeback in 2023, with deep reds, bold pinks, and bright oranges being the go-to shades.

 

Glittery eyes:

Glittery eyes are a fun and playful way to add some sparkle to your look. This trend involves using glitter eyeshadow or glittery eyeliner to create a shimmering effect.

 

Dewy skin:

Dewy skin is a fresh and youthful look that involves using highlighter to create a radiant, glowing complexion.

 

Colored mascara:

Colored mascara is a fun and unexpected way to add some color to your look. Blue, green, and purple mascara are popular choices for 2023.

 

Bold brows:

Bold brows are still going strong in 2023, with thick, full brows being the go-to look.

 

Negative space eye makeup:

Negative space eye makeup involves creating cut-outs or empty spaces in your eye makeup, leaving parts of your eyelid bare for a unique and edgy look.

 

Metallic eyeshadow:

Metallic eyeshadow is a trend that's been gaining popularity over the past few years and is set to continue in 2023. Shades like bronze, gold, and silver are perfect for creating a bold, shimmery eye look.

 

Statement eyelashes:

Statement eyelashes are all about going big and bold with your lashes. This trend involves using falsies or extensions to create dramatic, voluminous lashes.

 
By following these top 10 makeup trends for 2023, you'll be sure to turn heads and stand out from the crowd. Whether you're looking for a bold and edgy look or a fresh and youthful glow, there's a trend out there for you. So why not experiment with some of these looks and see which ones work best for you? 
If you're interested in turning your passion for makeup into a rewarding beauty career, GLOW College's Advanced Makeup Diploma program provides the technical and practical skills training you need to succeed in this exciting industry. 
Is a Rewarding Career in Makeup Artistry Right For You? Get More Info… 
If you're interested in learning more about a career in makeup artistry and exploring whether GLOW College is right for you, fill out the form on this page to receive more information. 
For immediate questions, call 905-453-9456.