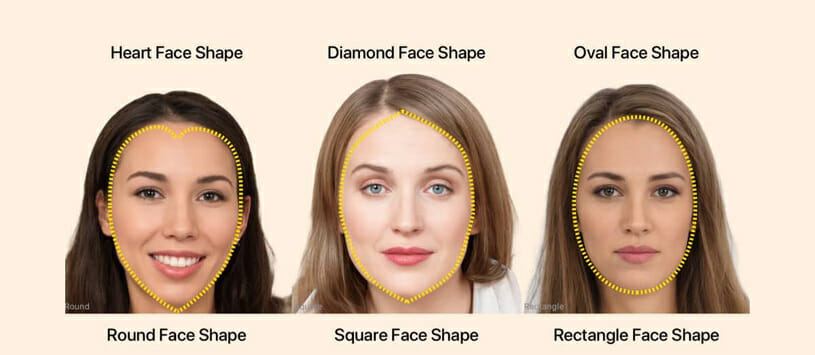 Choosing the right hairstyle can be a daunting task, especially when you're not sure what will suit your face shape. The right hairstyle can enhance your features and flatter your face shape, while the wrong hairstyle can do the opposite. In this post, we'll be sharing tips on how to choose the right hairstyle for your face shape.
Oval face shape: Lucky you! An oval face shape can pull off almost any hairstyle. Go for a layered cut or a long bob to accentuate your features.
Round face shape: If you have a round face shape, opt for hairstyles that add height and length to your face. A long, layered cut or a sleek ponytail can do wonders for your features.
Square face shape: Square faces look great with hairstyles that soften the jawline. Try a layered bob or a side-swept fringe to add some softness to your look.
Heart face shape: A heart face shape looks great with a chin-length bob or a layered cut with side-swept bangs. This will draw attention to your eyes and cheekbones.
Diamond face shape: A diamond face shape can be flattered with a hairstyle that adds volume to the top and back of the head. Try a textured pixie cut or a curly bob.
Oblong face shape: Oblong faces look great with a long bob or a layered cut that adds volume to the sides of the face.
When choosing a hairstyle, it's important to consider your hair texture, lifestyle, and personal style. Don't be afraid to experiment with different styles and consult with your hairstylist for their professional advice. Remember, the right hairstyle can make all the difference in how you feel about yourself and how others perceive you.
In conclusion, choosing the right hairstyle for your face shape can be a game-changer for your overall look. By following these tips, you'll be on your way to finding the perfect hairstyle that flatters your features and enhances your beauty.
If you're looking to explore your creativity and pursue your passion for the hair industry, GLOW College's Online and In-Person Hair Design Courses will provide you with the skills and training you need to pursue a successful future as a Hair Design professional.
Is a Rewarding Career in Esthetics For You? Get More Info…
If you're interested in learning more about a career in skin care and exploring whether GLOW College is right for you, fill out the form on this page to receive more information.
For immediate questions, call 905-453-9456.