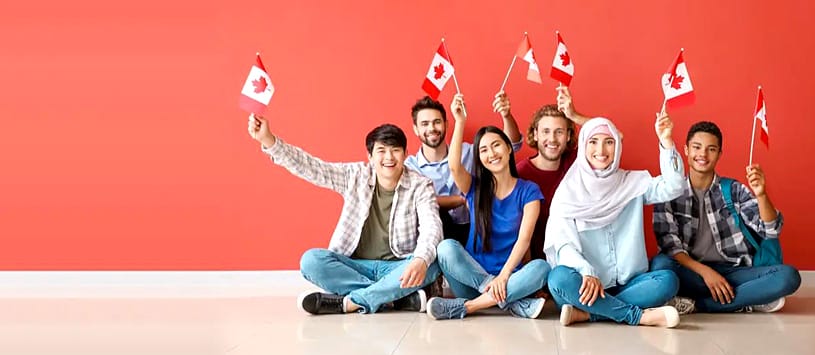 Canada, known for its breathtaking natural landscapes, multicultural cities, and world-renowned educational institutions, is an increasingly popular destination for international students seeking high-quality education. In this comprehensive guide, we'll explore all aspects of studying in Canada, from the admission process to the student experience and beyond.
Choosing Canada as Your Study Destination
Academic Excellence: Canadian universities and colleges are recognized for their high academic standards and rigorous quality controls. Canada boasts some of the world's top-ranking institutions, providing quality education and innovative research opportunities.
Cultural Diversity: Canada's welcoming and inclusive society embraces diversity. International students find a supportive and multicultural environment that encourages global perspectives.
Post-Study Opportunities: Canada offers excellent post-graduation work permit options, making it easier for international students to gain valuable work experience and potentially become permanent residents.
Admission and Application Process
Choose Your Program: Select the program and institution that aligns with your academic and career goals. Research various universities and colleges, considering factors such as location, program offerings, and funding options.
Eligibility and Requirements: Check the specific admission requirements for your chosen institution and program. These requirements may include standardized test scores, academic transcripts, letters of recommendation, and language proficiency tests like IELTS or TOEFL.
Apply Online: Most Canadian institutions provide online application portals. Carefully follow the application instructions and deadlines, as they can vary between universities and colleges.
Visa and Study Permit: Once you've received an acceptance letter from a Canadian institution, you'll need to apply for a study permit and, in some cases, a temporary resident visa (TRV). Ensure you meet all the requirements and prepare your application well in advance.
Financing Your Education
Tuition Fees: Tuition fees in Canada can vary significantly depending on the program and institution. International students should expect to pay higher fees than Canadian residents.
Scholarships and Financial Aid: Explore scholarship opportunities available for international students, which can help offset tuition costs. Additionally, investigate part-time work options and research assistant positions to supplement your income.
Cost of Living: Consider the cost of living in your chosen city. Expenses for accommodation, transportation, food, and personal items can vary considerably, so create a realistic budget.
Student Visa and Immigration
Study Permit: A study permit is a must for international students in Canada. It is typically valid for the duration of your program. Ensure you meet all the requirements and submit a complete application.
Temporary Resident Visa: Depending on your home country, you may also need to apply for a temporary resident visa (TRV) to enter Canada. Check the specific requirements for your country on the Canadian government's website.
Work Opportunities: As an international student, you may be eligible to work part-time during your studies and full-time during scheduled breaks. A study permit typically allows you to work on or off-campus without an additional work permit.
Education System in Canada
Degree Levels: Canada offers a variety of degree levels, including bachelor's, master's, and doctoral programs. Colleges provide diploma and certificate programs, focusing on practical skills and hands-on training.
Semester System: Canadian institutions typically operate on a two-semester system, with fall and winter semesters. Some institutions offer a summer semester as well.
Quality Assurance: Canada's educational institutions maintain high academic standards, often subject to rigorous quality control assessments by provincial and territorial governments.
Living and Accommodation
On-Campus Housing: Many universities offer on-campus accommodation options for international students, providing convenience and a supportive community.
Off-Campus Housing: Off-campus housing, including shared apartments, homestays, and rental accommodations, is readily available in most Canadian cities. Be sure to research your options and consider proximity to your institution.
Cultural Experience: Living in Canada provides a unique opportunity to immerse yourself in a diverse and welcoming culture. Explore local traditions, food, and experiences that each region has to offer.
Student Life and Support Services
Student Associations: Many universities and colleges have student associations that organize events, activities, and clubs to help you meet new people and make friends.
Counseling and Support: Institutions provide counseling services and academic support to help students adjust to the academic environment and manage any personal challenges.
Healthcare: International students may be eligible for Canada's public healthcare system, depending on the province or territory. Ensure you have the appropriate health coverage during your studies.
Post-Graduation Opportunities
Work Permits: Canada offers several post-graduation work permit options that allow international students to work in Canada for up to three years after completing their studies. This valuable experience can lead to permanent residency.
Path to Permanent Residency: Many provinces offer pathways to permanent residency for international graduates. Research and explore your options for long-term settlement in Canada.
Language Requirements
English or French Proficiency: As Canada is a bilingual country, you may need to demonstrate proficiency in English or French, depending on your chosen institution and program.
Language Courses: If your language skills are not at the required level, you may have the opportunity to take language courses at Canadian institutions to meet the language requirements.
Safety and Cultural Adaptation
Safety: Canada is known for its low crime rate and welcoming society. However, it's essential to be aware of local safety guidelines and practices.
Cultural Adaptation: Adjusting to a new culture can be a significant aspect of studying abroad. Be open to new experiences, make an effort to engage with the local community, and seek support from fellow students and academic advisors.
In conclusion, studying in Canada offers a rich and diverse educational experience that extends beyond the classroom. From the admission process to post-graduation opportunities, Canada provides a welcoming environment for international students to achieve their academic and career goals while immersing themselves in a vibrant and multicultural society. Whether you're drawn to the stunning landscapes or the renowned educational institutions, Canada is a destination that opens doors to endless possibilities.
Is a Rewarding Career in Canada Right For You? Get More Info…
If you're interested in learning more about a career in skin care and exploring whether GLOW College Canada is right for you, fill out the form on this page to receive more information.
For immediate questions, call 905-453-9456.