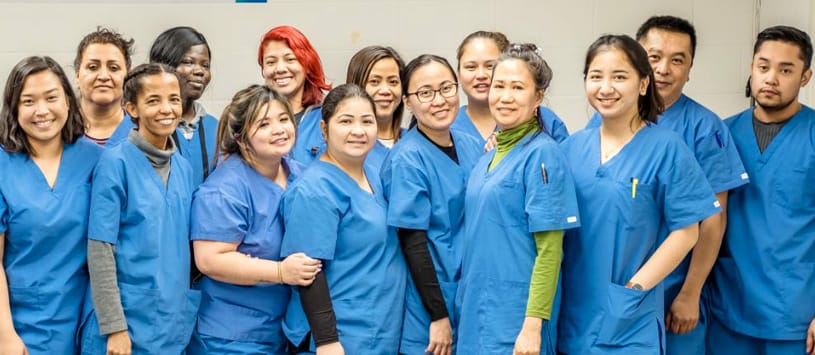 Choosing a career path that's not only rewarding but also in high demand is a smart decision. The healthcare industry is a prime example of such a field, and one profession that's at the heart of it all is that of a Personal Support Worker (PSW). PSWs play a critical role in helping people in need of care, and a Personal Support Worker college program is your gateway to a fulfilling career with a wealth of job opportunities upon graduation.
In this blog post, we'll explore what it takes to become a Personal Support Worker, the skills you'll acquire through a college program, and the wide array of job opportunities available to you in this noble profession.
What is a Personal Support Worker?
Before diving into the details of the college program and job opportunities, it's important to understand the role of a Personal Support Worker. PSWs are healthcare professionals who provide essential care and support to individuals in various settings, including hospitals, long-term care facilities, home care, and community centers. They assist clients with activities of daily living, such as bathing, dressing, meal preparation, medication administration, and companionship.
PSWs work with diverse populations, including the elderly, people with disabilities, individuals recovering from surgery, and those with chronic illnesses. They offer physical, emotional, and social support, enabling clients to maintain their independence and improve their quality of life.
Why Pursue a Personal Support Worker College Program?
In-Demand Profession: The healthcare industry is experiencing a growing demand for qualified Personal Support Workers. As the aging population continues to increase, so does the need for healthcare services, including home care and long-term care facilities. This translates to a plethora of job opportunities for PSWs.
Quick Entry into the Workforce: Unlike some healthcare professions that require extensive education and training, a PSW college program typically takes a relatively short amount of time to complete, allowing you to enter the workforce sooner.
Rewarding Career: Working as a PSW is inherently rewarding. You have the opportunity to make a significant difference in the lives of individuals who depend on your care and support. The sense of fulfillment that comes with this profession is unparalleled.
The Personal Support Worker College Program
A Personal Support Worker college program is designed to provide you with the knowledge, skills, and practical experience needed to excel in your role. These programs vary in duration but are generally concise and comprehensive, making them an excellent choice for those looking to start their careers quickly. Here's what you can expect from such a program:
Foundational Healthcare Knowledge: You'll receive instruction in basic healthcare concepts, including infection control, anatomy, and physiology, as well as medical terminology. This knowledge is crucial for understanding the conditions and needs of your clients.
Personal Care Skills: Personal Support Workers are trained in various aspects of personal care, such as bathing, grooming, dressing, and toileting. You'll learn how to provide these services with dignity and respect.
Safety and Assistance Techniques: You'll acquire skills in transferring and positioning clients safely, preventing falls, and assisting with mobility. Safety is a top priority in healthcare, and you'll be well-prepared to ensure your clients' well-being.
Medication Management: Many clients may require assistance with medication management. PSW programs often include training in administering medications and understanding common drug interactions.
Communication and Interpersonal Skills: Building strong relationships with clients is at the core of the PSW profession. Your program will emphasize communication skills, active listening, empathy, and conflict resolution.
Psychosocial Support: You'll learn how to provide emotional and psychological support to clients, addressing their social and emotional needs. This is especially important for individuals facing illness, disability, or the challenges of aging.
Cultural Competency: PSWs work with diverse client populations. Cultural competency training ensures you can provide respectful and inclusive care to all clients.
Clinical Experience: Most PSW programs incorporate a practical component where you gain hands-on experience in a healthcare setting. This clinical experience allows you to apply your knowledge and skills under the guidance of experienced professionals.
Upon completion of your Personal Support Worker college program, you'll be well-prepared to take on the responsibilities of a PSW and provide exceptional care to those in need.
Job Opportunities for Personal Support Workers
One of the most appealing aspects of becoming a Personal Support Worker is the abundance of job opportunities available in various healthcare settings. Here's a glimpse of the roles and settings where you can find employment:
Home Care: Many PSWs work in home care, providing essential services to clients in their own residences. This allows clients to remain in the comfort of their homes while receiving the care they need.
Long-Term Care Facilities: PSWs are in high demand in long-term care facilities, including nursing homes and assisted living facilities. They play a crucial role in caring for elderly and vulnerable residents.
Hospitals: In hospital settings, PSWs work alongside nurses and other healthcare professionals to provide direct care to patients. This may involve assisting with activities of daily living and monitoring vital signs.
Community Health Centers: Some PSWs work in community health centers, offering support and care to individuals with chronic illnesses or disabilities in a community-based setting.
Palliative Care: PSWs working in palliative care provide compassionate end-of-life care to individuals and their families. This role requires sensitivity and emotional support.
Rehabilitation Centers: Rehabilitation centers and clinics hire PSWs to assist individuals recovering from injuries, surgeries, or medical procedures. They play a vital role in helping patients regain their independence.
Specialized Care: Some Personal Support Workers choose to specialize in caring for clients with specific conditions, such as dementia, mental health challenges, or developmental disabilities. These roles may require additional training and certification.
Conclusion: A Fulfilling Career Awaits
In conclusion, a Personal Support Worker college program is your pathway to a fulfilling and in-demand career in the healthcare field. With a strong foundation in healthcare knowledge, personal care skills, and a deep understanding of the physical and emotional needs of your clients, you'll be well-equipped to make a positive impact on their lives.
The job opportunities for Personal Support Workers are diverse and ever-growing, ensuring that your skills and expertise will be in constant demand. Whether you choose to work in home care, long-term care, hospitals, or specialized fields, you can be confident that your career will be rewarding and make a real difference in the lives of those you care for.
As you embark on your journey to become a Personal Support Worker, remember that your role is not just a job but a vocation. It's a calling to provide compassionate, patient-centered care to those in need. Embrace this noble profession with dedication and empathy, and you'll find that your career as a Personal Support Worker is not just a job—it's a fulfilling and rewarding life's work.
Is a Rewarding Career as a Personal Support Worker Right For You? Get More Info…
If you're interested in learning more about a career as a Personal Support Worker and exploring whether GLOW College is right for you, fill out the form on this page to receive more information.
For immediate questions, call 905-453-9456.