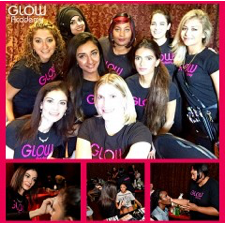 Beauty that's making a difference!
Fashion against poverty (FAP) is an annual fashion show that utilizes fashion as a podium to stand against poverty while showcasing designers, artists, and entrepreneurs in Canada. Money raised from the show goes to Canadian Youth as well as disadvantaged children in Ghana, Africa.
On July 16th GLOW Academy sponsored this event, sending a group of our students to work on 20+ models to do Makeup for the "Fashion against Poverty" fashion show at the Super Wonder Gallery in Toronto. Not only was this a fun event for a worthy cause but an invaluable practical opportunity for our student's to help expand their resumes and hone their newly acquired creative makeup skills.