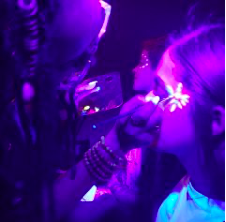 Our student's enjoyed this unique opportunity to do glow in the dark makeup.
Our students were up for any challenge, just give them a brush and colors, no lights required!
Something completely out of this world at the Cosmic Glow event last night. Another amazing Industry Practical experience where our students were able to apply glow in the dark makeup on Guests and Astronauts of #cosmicglow2019
Another great industry practical our student's were able to experience and add invaluable experience to their resumes/portfolios ahead of graduation!