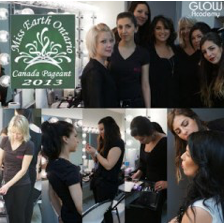 A few of our students had the opportunity to join our recent GLOW Grads Alicia and Maya that led a power packed weekend preparing pageant contestants for Miss Earth Ontario.
Being on location at Al Green Theatre downtown Toronto, was an exciting time that allowed students first hand experience at a live event. Our students showed off their hands on skills by creating customized glamours looks for the contestants
At GLOW College we pride ourselves in providing our students with action filled and hands on experiences, giving our students the chance to build their professional portfolio before even graduating.