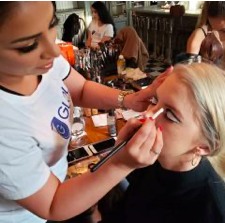 Watch our Makeup Diploma Student Cici take you behind the scenes at Soho House Toronto as our student's gained exclusive access to create Woodstock 1969 looks for their Halloween Event:
Soho House behind the scenes video
Soho House was founded in London in 1995 as a home from home for people working in creative fields. There are Houses located in the UK, Berlin, Istanbul, Barcelona, New York, West Hollywood, Miami, Chicago and Toronto.
Unlike other club concepts, which often focus on wealth and status, Soho house aim's to assemble communities of members that have something in common: namely, a creative soul. The majority of Soho members work in traditional creative industries, with the film, fashion, advertising, music, art and media sectors, among others, heavily represented.