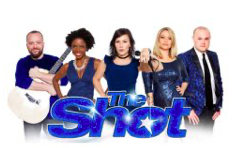 We are getting ready to doll up the Judges and Contestants of The Shot for tomorrows grand finale.
After four incredible seasons, Canada's fastest growing vocal talent competition "The Shot" returns this fall in search of the best and brightest emerging talent from across Canada and the world.
"The Shot" creator and executive producer C.J. Allen, Danya Dixon and Juneyt Yetkiner return as judges with Brad Moore returning as host.
With the search open to acts age 16 and up from anywhere in the world, "The Shot" is providing an opportunity for singers to be seen and be heard by new audiences. The series is a true celebration of creativity and talent, featuring a colourful array of singers from any genre, all vying to win the audience's hearts and the career launching grand prize.
For its 4th season in November 2017, "The Shot" welcomed over 200 singers from across Canada, the United States and even as far away as The Bahamas to open auditions in Kitchener-Waterloo. Matthew Boutros, a 20-year old server from Ottawa, Ontario, took home the grand prize by winning over the judges and the audience with his soulful, pop sound.
Past highlights include Season 2 winner James Downham in 2015 who has gone on to perform in major venues across the province with 'The James Downham Band' after releasing his self-titled EP. "The Shot" is produced by Allegiance Music.