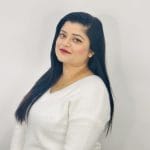 Archana Badhan – International Admissions Advisor
Archana started her career in the Education field 6 years ago. She is very passionate about interacting with prospective students and helping them choose the right path to bringing them closer to their goals. She always wants to keep upscaling her skills and recently finished her Marketing degree.
Archana always believes in accomplishing a bigger picture and is a team player. She enjoys experimenting with different cuisines and loves the outdoors. She is always working on one project or the other and likes to take a mental break by listening to Sufi music.