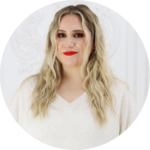 Candace Britton, Instructor
Candace has been in the beauty industry for over a decade now. At the start her career as an Assistant to a successful Makeup Artist in her hometown of Townsville, Australia, she knew early on that she would be in the beauty industry for the long haul.
Shortly after moving to Toronto in 2013, Candace added a Canadian Diploma to her beauty credentials and dabbled in the film and special effects world, gaining extensive industry experiences. In her career, Candace has worked with some outstanding beauty brands such as Physician's Formula, Bobbi Brown, and Charlotte Tilbury. She has made sure movie stars were picture perfect for Comic Con & the Toronto International Film Festival, and excelled her brand forward working with popular Artistry teams around Toronto.
Candace's latest new passion has become sharing knowledge with the next general of Beauty Professionals at GLOW College, whether in person, online or at an International destination with one of our Affiliate Schools.
When she isn't teaching, she honors the Clients of her mobile beauty business with hands on services to keep them looking their best.
Besides beauty, Candace is passionate about cooking, history, and true crime!