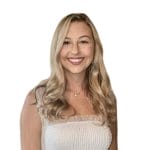 Gabrielle Land – Instructor
Gabrielle, a dedicated advocate for early childhood education, discovered her passion for children at a young age. Her strong influence stemmed through her mother's successful 30-year career as an early childhood educator. This deep-rooted love led her to embark on her educational journey through acquiring a diploma in Early Childhood Education. Gabrielle then went on to complete further studies in the field through her completion of an Honors Bachelor degree in Early Childhood Leadership.
Gabrielle initiated her professional career as an educator at a young age, gaining valuable experience across diverse age groups. Over the past five years, she has demonstrated exceptional leadership skills, steering the success of two large early learning institutions in the greater Toronto area. In her role as a leader, Gabrielle is committed to inspiring and supporting today's educators, fostering high-quality early learning environments that nurture children's development and well-being.
In addition to her professional accomplishments, Gabrielle recently celebrated a significant milestone in April 2023, as she got engaged to her now soon to be husband and the couple is joyfully preparing for a September 2024 wedding. Beyond her dedication to education, Gabrielle has a passion for adventure, often exploring new destinations, baking, and embracing the great outdoors in various activities.