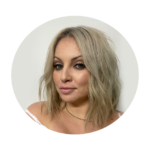 Jennifer Estrela, Marketing Coordinator
With over 21 years of experiences working with hair, Jennifer found herself passionate about the wedding industry where she has been creating hair designs for Brides for over 10 years of her career.
For Jennifer, becoming a stylist has always been about recognizing the beauty someone possesses within and to bring it out for the world to see. She believes what you see first is what you get, which is why she loves helping her Clients present themselves in the best possible way.
Jennifer loves being able to change someone's appearance,  just by being creative in an industry that fascinates her and inspires her to keep learning herself, day by day!
Becoming an instructor is another notch on Jennifer's belt, where she not only shares her knowledge but aims to learn from her Students, each and every day.