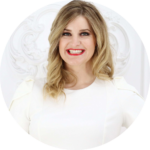 Kimberly Hicks, Instructor
Kimberly earned her degree in Advanced Esthetics 15 years ago, and continued on to becoming a Medical Esthetician. Her experiences encapsulate everything from skin, makeup artistry, nail technology, body treatments, IPL treatments and more.
The Esthetics field is directly aligned with everything Kimberly enjoys doing. With a background in Kinesiology, Kimberly enjoys teaching lessons in Skin Anatomy and Body Systems, just as much as teaching hands on techniques.
Kimberly has worked with local magazines doing makeup spreads and photoshoots including avante garde and runway looks. She has also worked with dozens of professional product lines and enjoys attending Master classes to continue learning new techniques, and about the latest equipment and technologies.
At home, Kimberly enjoys being an active Mother of 3 young children with her fellow Teacher Husband. She keeps her family active and rarely has a night without plans. Camping and Cottaging in the summers and outdoors in general whenever possible, especially outdoor ice skating in the winters. Anything to stay active with her family.