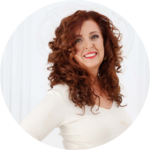 Maria's passion for Esthetics was sparked 30 years ago by her love of connecting with people and helping them feel better about themselves. Her journey in the industry includes owning and operating her own salon/spa for over 25 years. In that time Maria has explored an interest in the biology of the human body through professional massage and medical certifications.
Maria continues to seek ways to improve her knowledge and skills in advanced nail techniques, laser hair removal, and skin care science. Through mentoring young professionals, Maria discovered a love of teaching. Her focus now is on educating and helping others discover their love for Esthetics and flourish in this diverse industry.
Maria loves to express herself artistically through make up artistry, painting, creating beautiful landscapes in the garden, and learning how to make a great gluten-free sourdough loaf in her spare time.