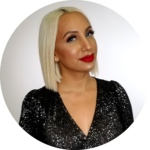 Myda may not look like it, but she is one of the original OGs at GLOW College, and has been sharing her knowledge and techniques at Campus and virtual classrooms across all Campuses and even internationally with our Affiliate Schools.
As an active Makeup Artist in the industry for over 12 years, Myda has worked with some of the top beauty brands, including Chanel, Giorgio Armani, YSL, Bobbi Brown, and Laura Mercier to name a few.
Myda has been published in Hello Magazine Spain, Oprah Magazine, Shuba magazine, Feroce Magazine and other such publications over the course of her career, as well as on set with film and TV studios in Toronto, New York and Spain.
Aside from her main passion in the Beauty industry, Myda enjoys the simple pleasures of skateboarding in the summers and snowboarding in the winters. She loves to travel and explore the world every chance she gets, yet somehow she makes times to volunteer regularly at local organizations as well as in 3rd world countries.
Myda hopes to run her own non-profit organization one day and we have no doubt that she will that.