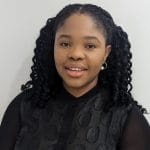 Princess Adetola Oluyede
– Instructor
Princess Adetola is a seasoned fashion designer with 11 years of experience in the industry. Throughout her journey, she has honed her skills, creating stunning designs that have graced runways and delighted clients.
Beyond her own success, she has also had the privilege of sharing her knowledge, having trained over 300 aspiring fashion enthusiasts, empowering them to chase their dreams in the world of fashion.
With a passion for design and a commitment to education, she continues to make her mark in the ever-evolving world of style. In her spare time she enjoys creating content on social media where people get to learn on her page about fashion, wellness and motherhood which she tagged Look good, Feel good and Live your best life.