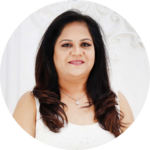 Raman Maindiratta, Instructor
Raman, completed her Graduation in Arts and furthered her education in Cosmetology over 30 years ago in New Delhi, India. Along the way, Raman also earned her Hair and Esthetics qualifications in Ontario Canada.
At the peak of her career, Raman owned and operated two successful Salons in Canada where she developed her passion for helping people and sharing her knowledge.
While enjoying sharing her experiences and knowledge with the new generation of Beauty Professional, Raman also looks for ways to continue learning and growing.
As a mother of two teenage boys, Raman values time with family and finds any excuse to cook, dance and find time for moderate exercise.
Her most memorable experience as a newby in Canada many years ago was understanding the slang language, especially when one of her Clients described the hairdo as being 'Sick'. Raman learnt later that it meant the Client was fascinated and very happy.