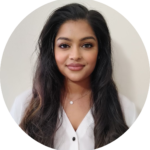 Sahana Raviraj, Instructor
Sahana's love for Beauty started at a young age and stayed with her consistently as she grew to become a self taught Makeup Artist. Realizing her passion and the earning potential of the Beauty Industry, Sahana completed formal Education to make her Career official.
As a young Mom, Sahana now balances her blogging with her adorable family and sharing her knowledge and skills of Makeup Artistry and Esthetics in class with her Students.