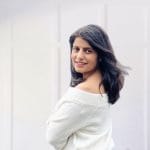 Samiksha is a highly skilled professional who completed her bachelors in fashion design five years ago. She gained valuable industry experience interning with one of the most prominent designers in India, who have showcased his creations at the prestigious Paris Fashion Week. Her time spent working in export houses and design houses has provided her with practical knowledge and insights into the fashion world.
To further enhance her expertise, she pursued a fashion management program at George Brown College in Toronto. This additional education has allowed her to blend her creative talents with strong business acumen, a valuable combination in the fashion industry.
What truly sets her apart is her unwavering passion for fashion. She remains engaged in a variety of creative projects, continuously pushing the boundaries of design and innovation. This dedication stems from her upbringing, as she was inspired by her mother, who has been a devoted teacher throughout her life. Her mother's influence instilled in her a love for education and a desire to share her fashion expertise with others, making her an exceptional fashion design instructor.