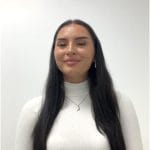 Sara Berisha – Admissions Advisor
Sara possesses educational and professional expertise in marketing and event planning, which deeply influenced her passion for creating unforgettable experiences by exploring the world. Her love for travel and her adventurous spirit have taken her to various countries, profoundly shaping her unique worldview.
These adventures delved into the domains of makeup, fashion, and style, providing her with a truly global perspective on these elements. Sara's interest in worldwide beauty, style and culture seamlessly translates into her impactful role at GLOW College, where she wholeheartedly connects individuals with their aspirations in the beauty and aesthetic industry.
In her daily life, Sara finds joy in reading, immersing herself in diverse cultures, and learning firsthand through her travels.