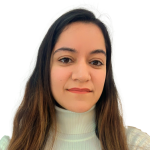 Sonam Kataria – Instructor
After having trouble integrating into the banking field, Sonam discovered her inner creativity and came to the realization that she wasn't in her element in that field. She felt she needed to start something original and creative, which is what led her to the cosmetics sector. Her passion for painting in early years ignited her innate desire to paint faces, which led her to become a makeup artist.
Finally her desire to pursue a profession in makeup led her to complete her formal training at Makeup and Hair Schools and finally today she feels honored to be acknowledged as makeup artist and beauty instructor at GLOW.
In addition to the cosmetics sector, she is an anchor and loves to host events, plan events, and amuse people. She also does modeling and has won a number of beauty pageants in the past.