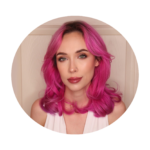 Taylor Reganti, Instructor
With over 8 years of building experiences in the Beauty Industry, Taylor has been able to gain and spread knowledge through various positions, including with large retailers such as Sephora where she held a position as a Senior Artist. Alongside her positions with leading brands, Taylor enjoys business ownership as a Freelance Bridal Artist. When she's not apply makeup, Taylor enjoys dabbling with the other side of beauty products, making some herself!
Taylor feels fortunate to have the support of her ironically colour-blind fiancé for the last 10 years while she pursues her passions!
Education has always been Taylor's favorite part of any position, attributing to her excitement in being able to share that passion and knowledge with fellow artists every day.