Get the Skills to Become an Esthetics Professional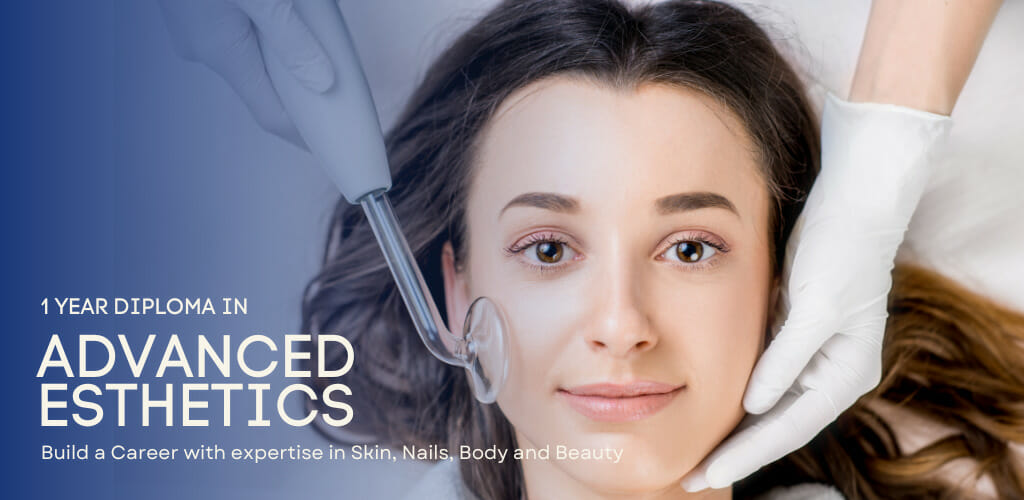 Advanced Esthetics Diploma Program in Ontario
*NOW ENROLLING – ENTRY POINT EVERY MONTH*
1040-Hour Vocational Program (8 months)
Hybrid Theory and Practical – 828 Hours plus Clinical Practice or Salon Placements
Clinical Practice or Salon Placement – 212 Hours
This Advanced Esthetics Diploma is available in Hybrid method (online reading and quizzes plus in Person practical on Campus).
Choice of Schedule includes: Weekday mornings, Evenings and Weekends. Each module contains online theories, quizzes and assignments along with in-class practicals and clinic hours for skill-building modules.
The best way to see if GLOW College is the right fit for you is to come and tour the school. You can tour our facilities and meet with students and instructors. Schedule a tour now or Get more info.
Become a Qualified Esthetics Professional
With careful emphasis on job and business readiness, this Vocational Program has been developed by Industry Professionals, screened by Subject Matter Experts and Accredited Adult Educators and is approved as a Vocational Program. A Diploma is earned upon successfully completing all modules of the program.
Loved the school! My instructors were very patient and very knowledgeable. Price point is great. Our kits are well equipped and with branded products. Plenty of industry time. I enjoyed my time here and think this course is the ideal way to go if wanting to start in the industry. I shopped around for a bunch of programs thought this was value for money and ideal for starting off in the beauty side of the business.
This program contains 9 individual subjects with multiple entry points. No prior training and experience is required. Below is a breakdown of the program and what you can expect to learn. An Entry Point is an approved Module/ Subject where a new student may enter the program. This program can be combined with the Advanced Nail Technology program for a Double Diploma opportunity.
1) Career Essentials Module (132 Hours) *Entry Point

Develop skills within the areas of Verbal Communication, Decision Making and Problem-Solving, Techniques in displaying and selling merchandise, as well as marketing and promoting techniques. Business start-up lessons are also included in this module.
2) Level One Makeup Artistry Module (72 Hours) *Entry Point

Understand Cosmetic products and brushes, including its uses and sanitation methods. Also develop an understanding of Color Theory, Face Shape and Artistry methods to correct each face shape. Additionally, learn hands-on techniques to applying full daytime and evening makeup looks for all skin types, complexions.
3) Science of Skin Module (228 Hours) *Entry Point

Understand the importance and process of infection control, sterilization methods, Health Canada guidelines, basic first aid, general understanding of the human body and its functions, as well as knowledge of assessing cosmetic ingredients prior to use.
4) Skin and Face Services Module (150 Hours)

Develop Client Care skills, the ability to conduct in-depth skin analysis and record observations to clients health history, understand contraindications to applied treatments as well as perform a basic facial and facial with high-frequency machines.
5) Science of Nails Module (30 Hours) *Entry Point

Develop knowledge and understanding of Bacteria and Viruses, Disinfection, Sterilization, as well as Nail and Skin Diseases and Disorders. Also understand methods of infection control, Health Canada guidelines, basic first aid, general understanding of the human body and its functions, nail anatomy, as well as chemistry of nail products and enhancement systems.
6) Nail Services Module (114 Hours)

Learn hands-on techniques in Basic and Spa Manicure Pedicure, French Manicures, Shellac Manicures, Exfoliation, Massage and Paraffin Treatments. Additionally, learn Client safety and safety protocols.
7) Hair Removal Module (72 Hours) *Entry Point

Develop an understanding of the Hair Growth Cycle, Client Care and Safety protocols as well as hands-on skills to perform wax and thread hair removal services.
8) Advanced & Holistic Treatments Module (72 Hours)

Develop unique knowledge and hands-on techniques in Holistic Beauty and Advanced Treatments such as Advanced Hand and Foot Treatments, Body Scrubs and Wraps, Chemical Peels, Microdermabrasion Cellulite Treatments, Hydrotherapy, Aromatherapy, Algotherapy, Relaxation Massage, Lymphatic Drainage Massage, Hotstone Massage, Reflexology Points, Lash and Brow Tinting, Lash Lift, as well as product knowledge of Holistic Methods and Products. Additionally, learn immune and circulatory systems and apply their basic functions to the provision of aesthetic services taking into account contraindications, precautions and appropriate modifications.
9) Clinical Practice (212 Hours)

Complete a minimum of 212 clinical practice hours on classmates, models and or clients. 10 select services will be assessed for final evaluation. Choose Salon placement option.
Career Opportunities
Job opportunities for Esthetics professionals include employment in:
Salons and Spas
Hotel Resorts
Advanced Esthetics Offices
Dermatologist Practices
Plastic Surgeon Practices
and more!
Pre-Requisites
Applicants of this Advanced Esthetics Diploma program must have a Canadian or USA Highschool Transcript or Diploma, or must pass a Wonderlic qualifying test that has been approved by the Superintendent. International Students – IELTS 6.0
Breakdown of Esthetician School Fees
Tuition: $11,400.00
Course Content Fees: $300.00+hst
Kits: $1,100.00+hst
Uniform: $190+hst
TOTAL $13,196.70
LendCare Financing
GLOW College offers a NEW 0% Financial Aid option through LendCare. LendCare offers an easy-to-use, online financing solution, with express credit decisions, accessible from anywhere you are, 24/7.
Apply Now!

To apply for Financial Aid through LendCare, please select your preferred campus from the list below. You will be directed to the application form for your chosen campus.

Click here for more information about GLOW College's financial aid options.
Other GLOW College Diploma Programs
Is a Rewarding Career in Esthetics Right For You? Get More Info…
If you're interested in learning more about careers in Esthetics and exploring whether GLOW College is right for you, fill out the form on this page to receive more information.
For immediate questions, call 905-453-9456.
Enroll