Get the Skills to Become a Makeup Artistry Professional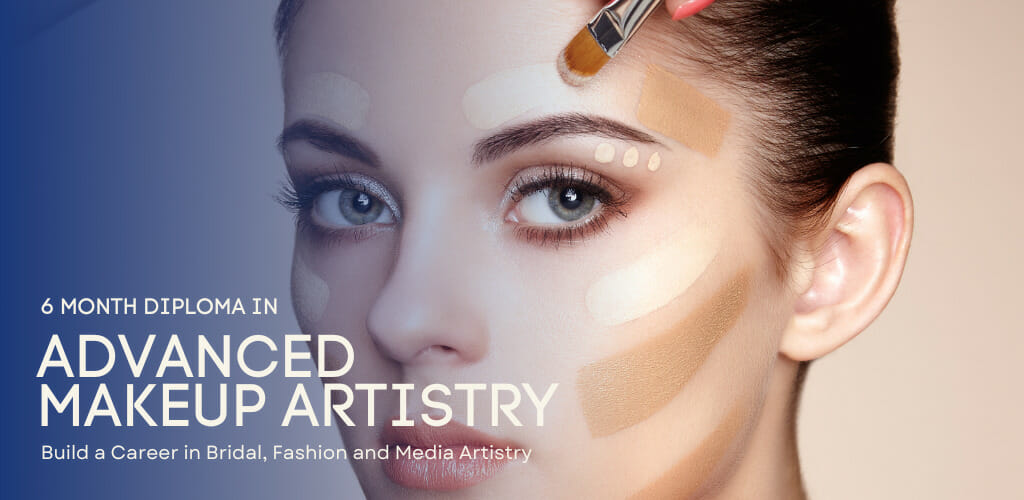 Advanced Fashion & Bridal Makeup Artistry Diploma Program in Ontario
*NOW ENROLLING – ENTRY POINT EVERY MONTH*
400-HOUR VOCATIONAL PROGRAM (5-6 months)
Hybrid Theory and Practical – 828 Hours plus Clinical Practice or Salon Placements:
Clinical Practice or Salon Placement – 212 Hours
This Advanced Makeup Diploma is available in Hybrid method (online reading and quizzes plus in Person practical on Campus).
Choice of Schedule Includes: Weekday mornings, Evenings and Weekends. Approximately 30% of each module is online theories, quizzes and assignments with the remaining as in-class practical hours.
The best way to see if GLOW College is the right fit for you is to come and tour the school. You can tour our facilities and meet with students and instructors. Schedule a tour now or Get more info.
The Advanced Fashion & Bridal Makeup Artistry Diploma has been developed by Industry Professionals, screened by Subject Matter Experts as well as Accredited Adult Educators and is approved as a Vocational Program under the Private Career Colleges Act in Ontario, Canada. A GLOW College Diploma is earned upon successfully completing all of the following Subjects/Modules of the program.
Complete this DIPLOMA with a series of reading lessons online and comprehensive practical classes at the International Academy of Beauticians to master Fashion and Bridal Makeup Artistry. Hair Design modules are included to ensure Graduates are well-rounded in both Makeup Artistry as well as Hair Design to create looks for the Beauty, Bridal, Fashion, Media and Runway industries. Develop advanced skills and confidence through theoretical lessons, live demonstrations and hands-on training. Capture your work with a series of optional portfolio shoots.
This Program contains 8 individual Modules with multiple entry points. No prior training and experience is required. Below is a breakdown of the Program and what you can expect to learn. An Entry Point is an approved Module/ Subject where a new Student may enter the program.
LEVEL ONE MAKEUP ARTISTRY MODULE (72 Hours) *Entry Point
Understand Cosmetic products and brushes, including their uses and sanitation methods. Also develop an understanding of Skin Theory, Color Theory, Face Shape and Artistry methods to apply and correct all face shapes and complexions. Additionally, learn hands-on techniques to applying full daytime and evening makeup looks for all skin types, complexions.
BRIDAL MAKEUP ARTISTRY MODULE (72 Hours)
Designed by Bridal Industry Experts. Students of this Module will learn effective Bridal Makeup Artistry, including techniques in Skin Preparation, Traditional and Trend application techniques for such looks as Classic, Glamour, South Asian and Media Eastern Bridal Looks. Also receive inside guidance of Trials, Consultations and Contracts.
FASHION MAKEUP ARTISTRY MODULE (72 Hours)
Learn effective Fashion Makeup Artistry techniques, including lessons in Fashion Makeup history, Runway, Seasonal Trends, Cut Creases, Halo and other current Fashion Makeup Artistry.
MEDIA MAKEUP ARTISTRY MODULE (48 Hours) *Entry Point for Advanced Students
This Module has been designed by Media Industry Experts to introduce Students to Media and Television Makeup Artistry. Lessons are designed to teach students effective application techniques for Male and Female faces for Color Photography Makeup, Black and White Photography Makeup, Stage and Theatre Makeup as well as Straight Television Makeup. Additionally, learn Airbrush Makeup Artistry using in-class kits and supplies.
LEVEL ONE HAIR DESIGN MODULE (36 Hours) *Entry Point
With a combination of theoretical lessons, demonstrations and hands-on practice, this module is designed to introduce students to Hair Anatomy as well as effective design techniques for various face shapes, hair textures and styles. Learn classic updos and standard techniques for curling, pinning and styling hair.
BRIDAL HAIR DESIGN MODULE (18 Hours)
Learn effective Bridal Hair design techniques including creating volume hairstyles with the use of hair padding and extensions, vintage curls, as well as pinning and setting Bridal veils.
FASHION HAIR DESIGN MODULE (18 Hours)
Advance into effective Hair Design techniques for the Fashion Industry including Runway Sleek, Braiding, and Historical Hair Styles such as finger rolls, pin curls and extreme volumes.
PRACTICAL "FREEDOM" MODULE (64 Optional Hours)
This Optional Module, known as the "Freedom Module" provides Students with added hours to review course content, request/review demonstrations, seek support with specific areas of struggle, and practice newly developed skills by completing exciting in-class projects. With this Module, no Student should graduate with a feeling of not having enough time for personal guidance, skill development or practice. Optional Industry experiences available during and post-program.
PRE-REQUISITES
Applicants of this DIPLOMA Program must have a Canadian or USA Highschool Transcript or Diploma, or must pass a Wonderlic qualifying test that has been approved by the Superintendent.
BREAKDOWN OF FEES
Tuition $7,400.00
COURSE CONTENT $300.00
KITS AND SUPPLY USE $2,406.00
OPTIONAL SHIRT FOR SHOWS $60.00
AVAILABLE SCHOLARSHIP FOR DOMESTIC STUDENTS $1,500.00
UNTIL MAY 31st on a first come first enroll basis.
PAY IN FULL FOR PRICE BREAKS OR CHOOSE A PAYMENT PLAN BELOW
PAYMENT PLAN OPTION
Deposit 1 – $1,339.00 Required to access course content
Deposit 2 – $1,582.00 Required 4 weeks before in-person classes
Plus choose a monthly plan option;
6 monthly payments of $817.00
8 monthly payments of $612.50
10 monthly payments of $490.00
ADD-ON MAC Kit for an additional $1200+tax)
Other GLOW College Diploma Programs
Is a Rewarding Career in Makeup Artistry Right For You? Get More Info…
If you're interested in learning more about careers in Makeup Artistry and exploring whether GLOW College is right for you, fill out the form on this page to receive more information.
For immediate questions, call 905-453-9456.