Get the Skills to Enhance Your Skin Care Career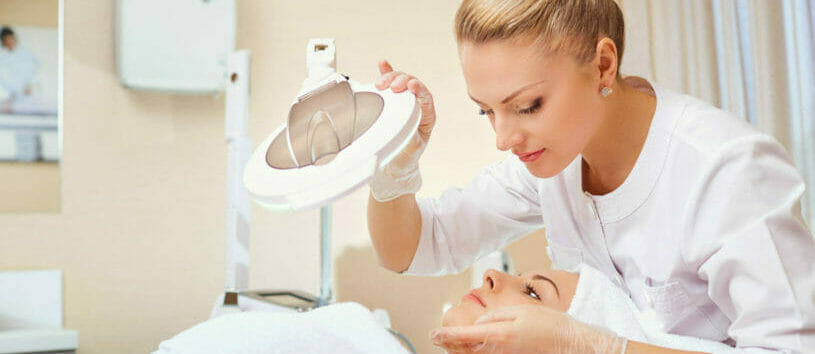 In-Person Advanced Skincare Treatments Certificate Course
Are you a Skin Care professional looking to enhance your career in the beauty industry? GLOW College's Advanced Skincare Treatments Certificate Course is designed to advance your beauty career by providing additional skincare services to your clients.
Followed by the Facial Treatments course, this course is designed to fully prepare you to safely and effectively perform advanced Skincare Treatments with the use of high frequency machines, facial fees, dermaplaning, microdermabrasion as well as microneedling.
Learn with our Interactive lessons and gain life-long access to Course Content including Quizzes to test your Knowledge, Step-by Step demonstrations and assignments.
During the Advanced Skincare Techniques course, you will learn advanced techniques in:
Chemical Peels
Dermaplaning
High Frequency Facials
Microdermabrasion
Microneedling
The best way to see if GLOW College is the right fit for you is to come and tour the school. You can tour our facilities and meet with students and instructors. Schedule a tour now or Get more info.
Expected Outcome
Develop an understanding of Skin Care and Treatments according to your clients' skin type and conditions. Supplies provided for in-class learning. Earning a Certificate will enable you to create Pro accounts with local Salon Distributors to access the industry's top brands and supplies.
Pre-Requisites
Facials Certification from an Approved College.
*Supplies available for use in class. Save kit budget and use when shopping at Supplier advised by the Instructor.
CHOOSE A PAYMENT OPTION THAT SUITS YOU BEST
IN PERSON COURSE: $2400
Payment Plan Option: Enroll Now for $450.00 a month for 3 months
LendCare Financing
GLOW College offers a NEW 0% Financial Aid option through LendCare. LendCare offers an easy-to-use, online financing solution, with express credit decisions, accessible from anywhere you are, 24/7.
Apply Now!

To apply for Financial Aid through LendCare, please select your preferred campus from the list below. You will be directed to the application form for your chosen campus.

Click here for more information about GLOW College's financial aid options.
Course Outline
This comprehensive course will take you from the ground up. Learn the essential theory and step-by-step techniques.
1) Intro

How to manage your time with Self Paced learning
2) Business

First Aid
Insurance
Infection Control
Buying Machines
Business Quiz
3) Chemical Peels

Chemical Peel Types
Before & After Care
Consultation Form
Step by Step
Chemical Peel Video Demonstration
Chemical Peel Quiz
4) Dermaplaning

What is Dermaplaning
History of Dermaplaning
Prior to Dermaplaning
Blade Description
Side Effects & Contraindications
Benefits of Dermaplaning
At-Home vs In-Clinic
FAQ
Consultation Form
Step by Step
Dermaplaning Quiz
5) High Frequency Facials

Contraindications to High Frequency
High Frequency Machine
Direct High Frequency Facial
Indirect High Frequency Facial
Sparking/Spark Gap
Step by Step
High Frequency Facials Quiz
6) Woods Lamp Skin Analysis

What is a Woods Lamp
What Can a Woods Lamp Diagnose
Colour Explanation
Step by Step
Contraindications
Woods Lamp Skin Analysis Quiz
7) Microdermabrasion

All About Microdermabrasion
Benefits
Contraindications
Before & After Care
Consultation
Step by Step
Microdermabrasion Quiz
8) Microneedling

Microneedling Overview
Benefits
Before & After Care/ Frequency of Treatments
At Home vs In Clinic
Contraindications
Consultation Form
Step by Step
Microneedling Quiz
9) Next Steps

Pricing Options

Choose a pricing option that suits you and start learning today. Pay in full to save or choose the monthly payment option. Fees include Tuition and free Virtual Seat assignment. Digital Certificate will be issued upon completion of all lessons, assessments, and upon final payment (where applicable). Non-refundable once paid. By enrolling into this Non-Vocational Course, you accept the Terms and Policies as outlined on the College webpage www.glowcollegecanada.ca/policies/

Is Advanced Skincare Treatments Career Training Right For You? Get More Info…

If you're interested in learning more about careers in Advanced Skincare Treatments and exploring whether GLOW College is right for you, fill out the form on this page to receive more information.

For immediate questions, call 905-453-9456.