Beauty Makeup Course (Online/ Plus In Person)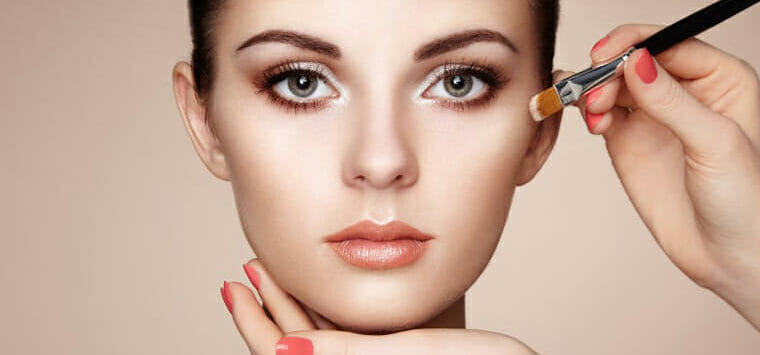 Complete theory lessons and assignments Online and come in for In Person Practicals.
Make it official, get Certified!
Designed for Beginner and Self-Taught Artists, this course includes lessons in Skin Anatomy and Preparation, Safety and Sanitation, Color Theory, as well as application techniques for all skin types and complexions. Online plus In Person.
COURSE DESCRIPTION
Gain comprehensive knowledge in essential theory related to the Profession of Makeup Artistry. Complete lessons in Safety and Sanitation, Skin Anatomy, Skin Care and Preparation, Color Theories, Kit Essentials, Product Life Span as well as Step by Step Makeup techniques to completing day and glamour looks on essentially all face shapes and complexions.
Practical lessons include base application, corrective base application, eyebrow mapping and shading, natural and smokey eye makeup techniques, highlighting and contouring techniques, lip application and correcting techniques, false lash application, as well as several other ways to effectively complete full face makeup application using current industry standards and trends.
Learn with our Interactive lessons and gain life-long access to Course Content including Quizzes to test your knowledge, Step-by-Step demonstration videos and portfolio building Assignments.
EXPECTED OUTCOME
Make it official and earn this Makeup Artistry Certificate to start towards building your Freelance Beauty Business or gain the confidence and credential to apply for a position with your favorite brands. This course is the ideal first Certificate level prior to completing other Advanced Certificates.
PRE-REQUISITES
None
CHOOSE A LEARNING METHOD
ONLINE COURSE $1200.00 OR 3 Monthly Payments of $450.00
BLENDED ONLINE AND IN PERSON $1800.00 OR 5 Monthly Payments of $400.00
Ask about our MAKE UP FOR EVER Kit Option for $790+tax Required for in-person classes, or you may purchase an Essential KIt for $240+tax which includes Professional brushes, stainless steel palette and spatula, plus the use of our Instructor kit in class. A choice of one of these kit options is mandatory for the In-Person lessons of this course.
Course Outline
This comprehensive course will take you from the ground up. Learn the essential theory and step-by-step techniques. Review the course outline below and start your journey towards Makeup Artistry Certification.
1 INTRO

How to manage your time with Self Paced learning
2 SAFETY AND SANITATION

Safety Protocols
Germology Video Lesson
Germs on Makeup
Types of Bacteria
Lifespan of Makeup Products
Kit Sanitation Video Lesson
Quick Sanitation Steps
Washing your Brushes
Safety and Sanitation Quiz
3 KIT ESSENTIALS

Synthetic vs. Natural Brushes
Brush Description
Skin Prep Products and Steps
Face Primers and Purpose
Foundations and Concealers
Powder Products and Purpose
Eye and Brow Products and Purpose
Lip Products and Purpose
Highlight and Contour Products
Application Tools and other Kit Essentials
Kit Essentials Quiz
4 SKIN ANATOMY

Layers of the Skin
Skin Types and Care
Skin Anatomy Quiz
5 FACE SHAPES

Characteristics of an Oval Face
Characteristics of a Round Face
Characteristics of a Square Face
Characteristics of a Diamond Face
Characteristics of a Pear Face
Characteristics of an Inverted Triangle Face
Characteristics of an Oblong Face
Characteristics of a Heart Face
Characteristics of a Rectangle Face
Celebrity Face Chart
Face Shape Quiz
6 COLOR THEORY

The Color Wheel
Elements of Color
Color Harmonies
Color Reflectiveness
Seasons of Color
Color Draping Video Lesson
Color Theory Quiz
7 SKIN PREPARATION

Skin Preparation Video Lesson
8 BASE APPLICATION

Choosing Foundations according to Surface and Under tones
Base Application Video Lesson
Before and After Base Application Assignment
9 CORRECTIVE MAKEUP

Corrective Makeup
Corrective Makeup Video Lesson
Before and After Corrector Application Assignment
10 HIGHLIGHT AND CONTOUR

Base with Highlighting and Contouring Video Lesson
Highlight Contour Placement by Face Shape
Celebrity Highlight Contour comparison Assignment
11 BLUSH APPLICATION

Blush Products and Purpose
Blush Application
Blush Application Video Lesson
12 EYEBROW SHAPING AND FILLING

Eyebrow Mapping Guide
Eyebrow Mapping by Face Shape
Eyebrow Mapping Video Lesson
Brow Mapping Assignment
Before and After Brow Mapping Assignment
13 EYE MAKEUP APPLICATION

Eye Lid Chart
Eye Shape Chart
Eye Makeup Application
Lining the Eyes
Color Selection for Eyes, Lips, Cheeks
Daytime Eye Application Video Lesson
Eye Liner Assignment
14 LIP APPLICATION

Anatomy of the Lips
Lip Shape Enhancing Chart
Lip Application Video Lesson
15 FALSE LASH APPLICATION

Strip Lash Application
False Lash Application
16 DAYTIME LOOK

Full Daytime Look Video Lesson
Daytime Face Chart Assignment
17 GLAMOUR LOOK

Smokey Eyes Video Lesson
Full Face Transition to Evening Look Video Lesson
Before and After Smokey Eyes Assignment
Evening Face Chart Assignment
Advanced Eyes Video Lesson
Winged Liner Face Chart Assignment
Advanced Base Video Lesson
Before and After Glamour Assignment
Glamour Face Chart Assignment
18 IN PERSON CLASS 1 of 6 (3 Hours)

Theory Review and Q&A
Sanitation and Safety Review and Q&A
Client Consultation Role Play
Skin Preparation Demo
CORRECTIVE BASE Demo and Practice
19 IN PERSON CLASS 2 of 6 (3 Hours)

DAYTIME LOOK Demo and Practice
20 IN PERSON CLASS 3 of 6 (3 Hours)

EVENING LOOK Demo and Practice
21 IN PERSON CLASS 4 of 6 (3 Hours)
22 IN PERSON CLASS 5 of 6 (3 Hours)

Current Trends and Techniques
23 IN PERSON CLASS 6 of 6 (3 Hours)

Practical Assessment
Industry Q&A Session
24 FINAL ASSESSMENT

FINAL EXAM
PRACTICAL EXAM (3 Part)
25 Next steps

You're almost done!
Feedback

Enrollment Terms

This course is NOT subject to the Private Career Colleges Act, 2005 Choose a pricing option that suits you and start learning today. Pay in full to save or choose the monthly payment option. Fees include Tuition and free Virtual Seat assignment. Digital Certificate will be issued upon completion of all lessons, assessments, and upon final payment (where applicable). Non-refundable once paid. Ask about Kit purchase options. By enrolling into this Non-Vocational Course, you accept the Terms and Policies as outlined on the College webpage www.glowcollegecanada.ca/admissions/

Is a Rewarding Career in Beauty, Design or Healthcare Right For You? Get More Info…

If you're interested in learning more about careers in Beauty, Design or Healthcare and exploring whether GLOW College is right for you, fill out the form on this page to receive more information.

For immediate questions, call 905-453-9456