Get the Skills to Become a Bridal Hair & Makeup Professional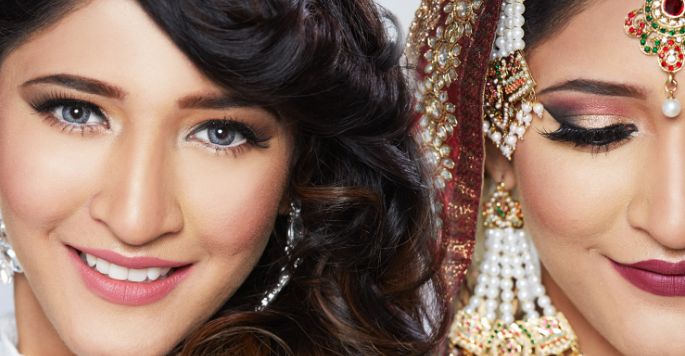 Online and In-Person Bridal Hair & Makeup Certificate Course
Are you interested in learning the skills you need to create both traditional and modern bridal looks? During GLOW College's Bridal Hair & Makeup Certificate Course, you will learn the standards of popular bridal looks including Classic and Glamour Bridal makeup, along with Ethnic Bridal techniques including Asian Oriental, South Asian (Indian/Pakistani), as well as dramatic Middle Eastern Bridal looks.
This Certificate Course is delivered online and on-campus so you can advance your beauty career with the flexibility and support you need to succeed. You can balance work, family and other commitments while you get the skills to build a brighter future.
During the Bridal Hair & Makeup Certificate course, you will learn advanced techniques in:
Skin Care and Preparation
Colour Matching
Classic Bridal Makeup
Glamour Fashion Bride
South Asian Bridal Makeup
The best way to see if GLOW College is the right fit for you is to come and tour the school. You can tour our facilities and meet with students and instructors. Schedule a tour now or Get more info.
Expected Outcome
Become well-versed and upskilled in Bridal and Party Makeup Artistry. Gain professional skills in client care, trials and contracts. Impress your clients with skin care and skin preparation knowledge as well as with your confidence in creating the desired looks for the big day.
Pre-Requisites
Makeup Certification from an Approved College or 6+ years of industry experience.
This fun, online quiz takes 3-minutes to complete and you'll get a personalized report. Identify your strengths and social style plus the training and positions you're best suited for. Get Your Career Training Readiness score now.
LendCare Financing
GLOW College offers a NEW 0% Financial Aid option through LendCare. LendCare offers an easy-to-use, online financing solution, with express credit decisions, accessible from anywhere you are, 24/7.
Apply Now!

To apply for Financial Aid through LendCare, please select your preferred campus from the list below. You will be directed to the application form for your chosen campus.

Click here for more information about GLOW College's financial aid options.
Course Outline
This comprehensive course will take you from the ground up. Learn the essential theory and step-by-step techniques. Review the course outline below and start your journey towards Bridal Makeup Artistry Certification.
1) Intro

How to manage your time with Self Paced learning
2) Selecting the Look

Selecting The Look
Shaping Up The Skin
Sample Bridal Contract
Bridal Skin Prep Video Lesson
3) Working with Medium to Dark Skin Tones
4) Classic American Bride

Classic American Bride
Classic Bridal Makeup Video Lesson
Classic Bridal Makeup Assignment
5) Glamour Fashion Bride

Glamour Fashion Bride
Glamour Bridal Assignment
6) Indian Bride

Mehndi/Henna Makeup
Henna Party
Henna Party Assignment
South Asian Bridal Makeup
South Asian Traditional Bridal Hair and Makeup
South Asian Bridal Makeup Assignment
7) Middle Eastern Bride

Middle Eastern Bridal Makeup
Middle Eastern Bridal Makeup Practice
8) Final Assessment

Bridal Hair & Makeup Quiz
Practical Exam
9) Next Steps

You've completed this Course!
Feedback

Enrollment Terms

This course is NOT subject to the Private Career Colleges Act, 2005 Choose a pricing option that suits you and start learning today. Choose a pricing option that suits you and start learning today. Pay in full to save or choose the monthly payment option. Fees include Tuition and free Virtual Seat assignment. Digital Certificate will be issued upon completion of all lessons, assessments, and upon final payment (where applicable). Non-refundable once paid. Ask about Kit purchase options. By enrolling into this Non-Vocational Course, you accept the Terms and Policies as outlined on the College webpage www.glowcollegecanada.ca/policies/

Is a Rewarding Career as a Bridal Makeup Artistry Professional For You? Get More Info…

If you're interested in learning more about careers in Bridal Makeup Artistry and exploring whether GLOW College is right for you, fill out the form on this page to receive more information.

For immediate questions, call 905-453-9456