Get the Skills to Become a Content Writing and Public Relations Professional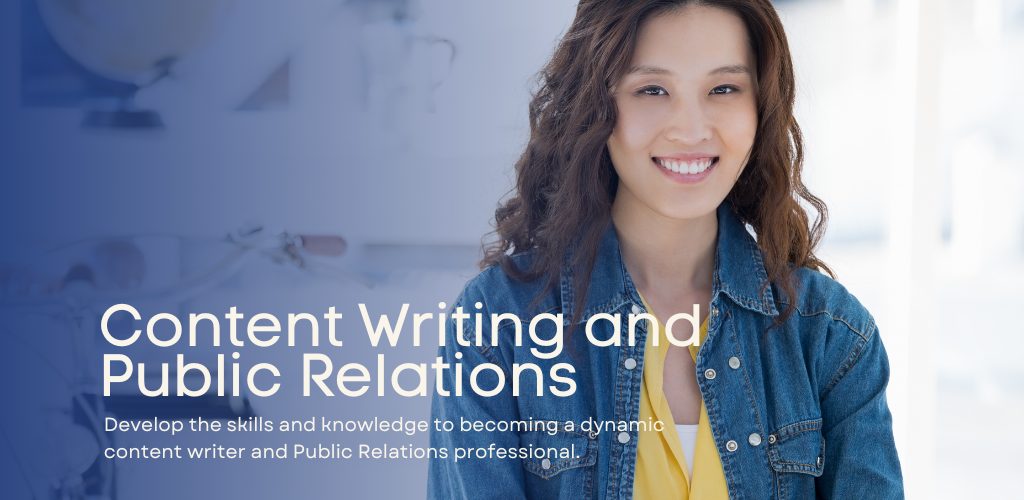 Online Content Writing and Public Relations Certificate Course
Make it official, get Certified in Content Writing and Public Relations!
If you want to expand your writing skillset, are looking at careers in content writing, or are thinking of becoming a freelance writer, GLOW College's Content Writing and Public Relations Certificate Course will provide you with the skills and training needed to excel in this exciting field.
This Course is delivered 100% online so you can advance your content writing career with the flexibility and support you need to succeed. You can balance work, family and other commitments while you get the skills to build a brighter future.
The best way to see if GLOW College is the right fit for you is to come and tour the school. You can tour our facilities and meet with students and instructors. Schedule a tour now or Get more info.
Course Description
During the Content Writing and Public Relations Course, you will learn how to create optimized content for websites, blogs, social media and include video storyboarding, scripting, and content promotion.
This course is a well-rounded and detailed approach to demonstrating the very distinct differences writers need to understand to develop and take their writing skills to the web, social media, blogging, YouTube, email marketing and more.

Expected Outcome
Upon completion of this course, you will have learned the unique writing styles required across online platforms and websites for jobs in content development and the digital marketing industry.
Pre-Requisites
None.
CHOOSE A PAYMENT OPTION THAT SUITS YOU BEST
ONLINE SELF PACED COURSE = $1200
Payment Plan Option: Enroll Now for $450.00 a month for 3 months
LendCare Financing
GLOW College offers a NEW 0% Financial Aid option through LendCare. LendCare offers an easy-to-use, online financing solution, with express credit decisions, accessible from anywhere you are, 24/7.
Apply Now!

To apply for Financial Aid through LendCare, please select your preferred campus from the list below. You will be directed to the application form for your chosen campus.

Click here for more information about GLOW College's financial aid options.
Course Outline
This comprehensive course will take you from the ground up. Complete essential lessons and portfolio building exercises to understand and function as a Social Marketing Manager. Review the course outline below and start your journey towards Content Writing and Public Relations Certification.
1) Writing Principles For The Web

Print Versus Screen Reading
What is Skimming?
What is Scanning?
How Does The Screen Reading Impact Comprehension?
Writing To Facilitate The Screen Reading Process Assignment
Making Bad Web Copy Better
Cleaning Up The Copy Assignment
Speaking Your Reader's Language: Vocabulary
Vocabulary Made Simple Crossword Assignment
Plain Language
Word Choice Assignment
Pronoun Usage: The 'You' Pronoun
Writing 'About' Copy Assignment
Transitional Words And Phrases
Adding Transitions Assignments
Speaking Your Reader's Language: SYNTAX
Social Media Posts Using Simple SYNTAX – PART ONE Assignment
Stay Active Online
Social Media Posts Using Simple SYNTAX – PART TWO Assignment
Changing Passive To Active Voice Assignment
Writing Workshop 1
Writing Workshop 1 Assignment
2) Before And After You Write

Pinpointing Goals
Identifying the Target Audience
Developing a Brand Case Study Assignment
More Than One Audience
The Star, The Ensemble, And The Spinoff Assignment
Identifying Preferred Niches
Tone
Matching Tones To Industries Assignment
Getting the Idea
Organizing Ideas
Mind Map #1: The Travel Bug – Internal Example
Mind Map #2: The Travel Bug – External Example
Listing The Ideas
Information Gathering Assignment
Structuring and Outlining
The Inverted Pyramid Assignment
The Inverted Pyramid: Key Message
Identifying The Key Message Assignment
The Inverted Pyramid: Supporting Details
Creating Topic Sentences Assignment
The Inverted Pyramid: Background Information
Background Information Worth Including Assignment
Call-To-Action (CTA)
Creating an Inverted Pyramid Outline Assignment
Headings and Subheadings
Introduction
Types of Headings
Writing Headings Assignment
Bulleting and Numbering
What's Bulleted or Numbered? Assignment
Drafting and Editing
Editing For Content
Using Track Changes
Editing For Mechanics Assignment
Writing Workshop 2
Writing Workshop 2 Assignment
Quiz
3) How To Write Copy That Converts

Search Engine Optimization
Getting Found On Search Engines
Identifying Keywords Assignment
How Did You Find Keywords?
Conducting a Keyword Search Assignment
Where Do I Put Keywords?
Writing an Optimized Landing Page Assignment
Other Places For Your Primary Keyword
Creating Meta-Descriptions Assignment
More Tips For Optimizing Content
Yoast SEO
What is Yoast SEO?
Outbound Links
Selecting External Links Assignment
Internal Links
Selecting Internal Links Assignment
Writing Workshop 3
Writing Workshop 3 Assignment
Quiz
4) Web Content Niches - Part One

Pay Per Click (PPC) Ads and Landing Pages
PPC Ads
Improving a PPC Ad Assignment
PPC Landing Pages Vs. SEO Landing Pages
How to Write a PPC Landing Page
Outline
Creating An Outline For a PPC Landing Page Assignment
Selecting Images and Video For a PPC Landing Page Assignment
Creating a PPC Landing Page Assignment
Press Releases
Press Release Structure
Analyze a Press Release Assignment
Write a Press Release Assignment
Getting a Press Release Picked Up
Preparing a Press Release Email Assignment
More About Timing Assignment
Wire Services
Infographics
Identifying Nine Types of Infographics Assignment
How to Get Ideas for Infographics
Planning to Write an Infographic
Brainstorming Ideas and Creating an Outline For an Infographic Assignment
Infographic Design Principles
How to Design for Flow
How to Design for Comprehension
Finding Excellent Infographic Design Elements Assignment
Writing Workshop 4
Design an Infographic Using Canva or Piktochart Assignment
Quiz
5) Web Content Niches - Part Two

eNewsletters
How to Get Content For an eNewsletter
Exploring Small Business Copy Assignment
Headlines for eNewsletter Content
Writing Headlines For eNewsletter Content Assignment
CTAs in an eNewsletter
Editing an eNewsletter and Evaluating Readability
Editing eNewsletter Copy Assignment
eNewsletter Design
Writing The Email Subject Line
Creating Email Subject Lines Assignment
Evaluating The eNewsletter's Effectiveness
Questions About Analytics Assignment
Wikipedia Pages
Editing Before Writing
Creating an Account and Editing Wikipedia Pages Assignment
Other Kinds of Edits: Adding In-Line Citations and References
Find The Source Assignment
Other Kinds of Edits: Editing a Stub
Wikipedia Style
Preparing To Write a Wikipedia Page Assignment
Creating a Wikipedia Page Outline
Writing a Wikipedia Page Outline Assignment
Drafting a Wikipedia Page
White Papers
Identifying The Target Market's Problems Assignment
Selecting a Focus
Outlining a White Paper
Conducting Research
White Paper Research Assignment
White Paper Components
A White Paper Outline Assignment
Editing a White Paper
White Paper Design Principles
A White Paper Executive Summary
Writing Workshop 5
Final Assignment
6) Video Scripts and Storyboarding

Video Sharing Platforms
YouTube
Vimeo
Live Video
Facebook Live
Instagram Live
Twitch
Video Content In the Offline World
Creating Content For Online Videos
Examples of Online Video Content Assignment
Vlogs
Featured Vlogger: Louis John Cole AKA "Fun For Louis"
Video Scripts
Disclosure Statements Assignment
Writing a Video Script Assignment
Storyboarding
Planning a Customer Testimonial
Audio
Video
Creating a Video Script and Story Board For a Customer Testimonial Assignment
Video Creation Software
Creating an Environment Conducive To Video Recording
Video Editing Tips
Uploading a Video To YouTube Assignment
Final Assignment
7) Promoting Your Content

The Editorial Calendar
Content Marketing On The Company's Website
Content Marketing On Social Media Channels
Repurposing Blog Content Assignment
Other Ways To Repurpose Content
Image-Based Platforms
Quora and Reddit
How to Submit a Post to Quora
How to Submit a Post to Reddit
Five More Tips for Posting Content on Social Media
Paid Social Media Promotional Methods Assignment
The Advantages of Promoting Content Via Email
Promoting Content that Solves a Problem
Creating Problem-Solving Emails Assignment
Original Content Created For Emails Assignment
Design Principles For Emails
Designing an Email For Love To Ride Assignment
Guest Blogging Assignment
Guest Blogging Opportunities Assignment
Why Attend a Blogging Conference?
How Does a Blogger Prepare?
Where Are Blogging Conferences Held?
Final Exam
Next Steps

Pricing Options

Choose a pricing option that suits you and start learning today. Pay in full to save or choose the monthly payment option. Fees include Tuition and free Virtual Seat assignment. Digital Certificate will be issued upon completion of all lessons, assessments, and upon final payment (where applicable). Non-refundable once paid. By enrolling into this Non-Vocational Course, you accept the Terms and Policies as outlined on the College Website www.glowcollegecanada.ca/policies/

Is a Rewarding Career in Content Writing and Public Relations Right For You? Get More Info…

If you're interested in learning more about careers in Content Writing and Public Relations and exploring whether GLOW College is right for you, fill out the form on this page to receive more information.

For immediate questions, call 905-453-9456.