Get the Skills to Become a Digital Photographer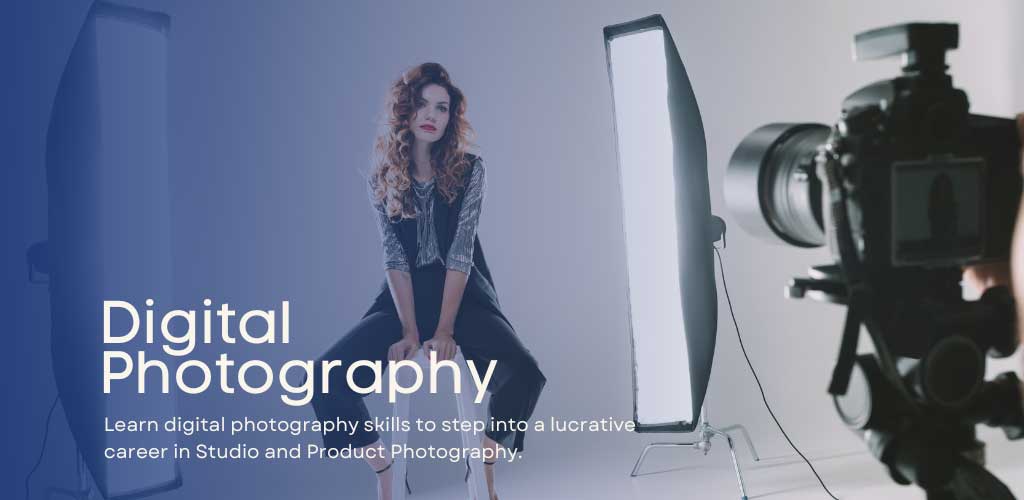 8-Week Digital Photography Certificate Course in Ontario
This comprehensive Digital Photography Certificate course is designed to provide aspiring Photographers with the knowledge and skills required to excel in the field of Photography. This course combines theoretical knowledge, practical exercises, and interactive experiences to provide a hands-on, in-studio learning experience.
Complete this Certificate course fully online self-paced or choose one of our popular Hybrid methods (Online Theories with In Person Instructor led Practicals), or Virtual Hybrid (Online Theories and virtual Instructor-led Practicals)
The best way to see if GLOW College is the right fit for you is to come and tour the school. You can tour our facilities and meet with students and instructors. Schedule a tour now or Get more info.
Expected Outcome
At the completion of this course, students will gain knowledge and practical skills in providing people and product photography to prospective Clients.
Supplies and Equipment
Limited supplies and equipment are provided for in-class demonstrations. Student are required to bring a digital camera of choice for hands-on practicals to complete this course.
Pre-Requisites
None.
Pre-Launch Promo:
This course is currently in its Pre-Launch phase. Enroll now for 50% off (regular $1800). This promo cannot be combined with other offers. Launching September 2023. As about joining the August Pre-Launch batch.
Online Self-Paced $1,200.00
Hybrid Instructor Led $1,800.00
Payment Plan Option: Enroll Now for $450.00 a month for 3 months
Course Outline:
Introduction to Digital Photography
Introduction to the course and instructor
Overview of digital photography and its benefits
Introduction to different types of cameras and their features
Understanding the basics of exposure: aperture, shutter speed, and ISO
Hands-on activity: Practice adjusting camera settings
Understanding composition and framing techniques
Exploring different types of lenses and their uses
Introduction to white balance and its impact on image quality
Hands-on activity: Composition exercises and shooting in different lighting conditions
Studio Photography and Headshots
Introduction to studio photography and its advantages
Setting up a basic studio: lighting equipment, backdrops, and props
Techniques for achieving proper lighting and avoiding common pitfalls
Hands-on activity: Setting up a basic studio and practicing lighting setups
Understanding portrait photography and capturing natural expressions
Techniques for posing subjects and conveying emotions
Importance of composition and background selection for headshots
Hands-on activity: Shooting headshots in the studio with different lighting setups
Full Body Shots and Environmental Portraits
Exploring the concept of full body shots and their applications
Techniques for posing subjects for full body shots
Using different focal lengths and perspectives to capture full body images
Hands-on activity: Shooting full body shots in various environments
Introduction to environmental portraits and their storytelling aspect
Selecting suitable locations and utilizing natural light effectively
Techniques for capturing the subject's personality in their environment
Hands-on activity: Shooting environmental portraits in outdoor locations
Product Photography
Introduction to product photography and its commercial applications
Techniques for lighting and setting up product shots
Styling and composition considerations for product images
Hands-on activity: Shooting various products using different lighting setups
Understanding product photography for e-commerce and online platforms
Editing techniques for enhancing product images
Tips for creating consistent product photography sets
Hands-on activity: Editing and retouching product images using photo editing software
Advanced Techniques
Introduction to advanced techniques such as long exposure and low-light photography
Techniques for capturing motion and creating dynamic images
Hands-on activity: Practicing long exposure and low-light photography
Exploring special topics in photography (e.g., macro photography, landscape photography, or street photography)
Techniques for capturing unique and captivating images in these genres
Hands-on activity: Choosing a special topic and shooting images in that genre
Post-Processing and Portfolio Building
Introduction to post-processing techniques and software options
Editing fundamentals: adjusting exposure, color correction, and basic retouching
Tips for organizing and managing a digital photo library
Hands-on activity: Editing and enhancing selected images from previous sessions
Creating a compelling photography portfolio
Strategies for curating and presenting your work effectively
Exploring avenues for sharing and promoting your photography
Hands-on activity: Selecting and organizing a portfolio of your best images
Final Projects
Discussion and planning for final photography projects
Identifying personal themes or subjects of interest
Hands-on activity: Planning and conceptualizing the final photography project
Final photography project execution
Reviewing and critiquing the projects
Reflection on the progress made throughout the course
Discussion on future photography goals and aspirations
Is a Rewarding Career as a Digital Photographer Right For You? Get More Info…
If you're interested in learning more about careers in Digital Photography and exploring whether GLOW College is right for you, fill out the form on this page to receive more information.
For immediate questions, call 905-453-9456