Get the Skills to Become an Early Childhood Assistant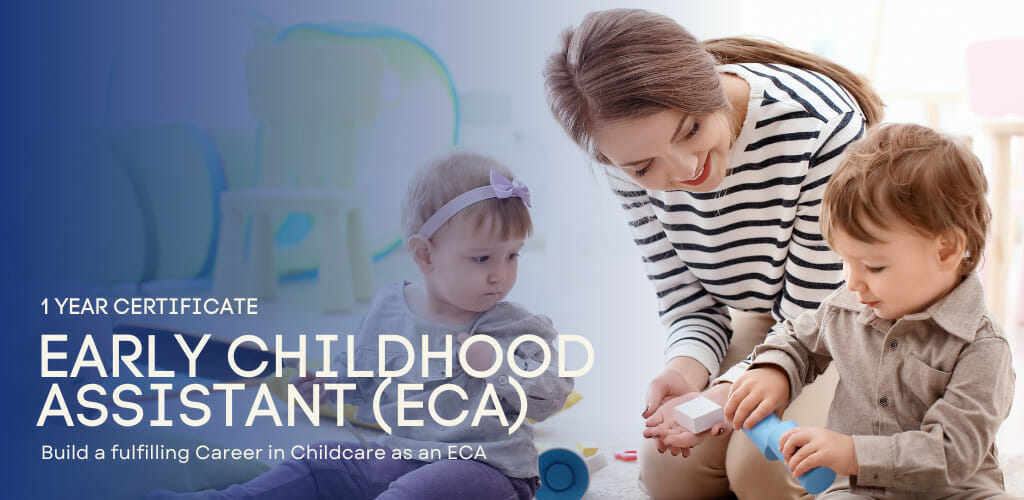 Early Childhood Assistant (ECA) Certificate (NAAC) Program in Ontario
*NOW ENROLLING FOR FALL SEMESTER – SEPTEMBER 2023*
SEE SCHOLARSHIP BELOW
945-HOUR VOCATIONAL PROGRAM (1 year)
Hybrid Theory and Practical – 455 Hours plus Clinical and Facility Placements:
Practicum Placement 1*: Infant and Toddler – 245 Hours
Practicum Placement 2*: Preschool – 245 Hours
*Licensed day care centre or early learning centre
The Early Childcare Assistant program was designed to equip childcare workers with valuable knowledge, skills and experience for employment as Assistants in day care or early learning centres. It was designed to give students an overview of the responsibilities of an early childcare assistant and opportunities to perform those responsibilities. It presents foundational skills needed for those seeking to move into an Early Childhood Educator program.
The best way to see if GLOW College is the right fit for you is to come and tour the school. You can tour our facilities and meet with students and instructors. Schedule a tour now or Get more info.
ECA LEARNING SEQUENCE AND BREAKDOWN OF HOURS:
Intro to Early Child Care and Education (20), Role and Responsibilities (45), Child, Family and Community (45), Intro to Child Development (30), Intro to Prenatal ad Infant Development (30), Intro to Toddler Development (30), Health and Safety (40), Written Communication (45), Observation Skills (35), PRACTICUM 1 – Infant and Toddler (245), Intro to Preschool Development (30), Guiding Children (30), Curriculum Planning (45), Nutrition (30), PRACTICUM 2 – Preschool (245).
LEARN THE KEY RESPONSIBILITIES OF AN EARLY CHILDHOOD ASSISTANT (ECA)
Students are presented with the professional expectations of early childcare workers, including the roles and responsibilities, attitudes, ethical standards and advocacy issues. The importance of teamwork, workplace communication and being a role module are addressed. Strategies for time and stress management are presented. Critical thinking and professional development strategies are also covered.
Additionally, Students gain an appreciation of the historical development of child care and its impact on contemporary approaches to care and curriculum. The role of government and associations in Canadian child care and education are explained. The QUAD principles in child care are introduced. And students will develop strategies for being a successful student.
STUDIES IN CHILD DEVELOPMENT, FAMILY AND COMMUNITY CARE
Students develop an appreciation and understanding of historical and contemporary theories of development domains and research approaches to child development. The program provides an in-depth look at the Canadian Family and the challenges facing families. Working with parents/guardians and building partnerships with families through formal and informal communication is discussed. Students will also gain an understanding of community-based support programs available to assist families who are facing specific challenges.
GUIDING AND OBSERVING SKILLS
Understanding the role of the observer and a variety of approaches to observing development. Ethical standards in observation and documentation are discussed. Writing concise, accurate and objective observations is introduced along with a variety of tools for observation. Dimensions of care giving are discussed and positive, developmentally appropriate techniques for guiding children are presented. Cultural sensitivity and various influences on child behaviour are discussed in the context of incorporating positive intervention and disciplinary strategies.
HEALTH AND SAFETY
Studies in concepts and strategies for developing and maintaining a safe and healthy child care setting. Students review Occupational Health and Safety (OH&S) regulations, fire codes and Workplace Hazardous Material Information System (W.H.M.I.S.) as well as discussing employer policies and procedures for emergencies. Child abuse recognition and responsibilities to report are covered.
CURRICULUM PLANNING AND NUTRITION
An introduction to various approaches of developing curriculum and theories of learning. Curriculum environments and program documentation are covered in the context of developmentally appropriate practices. Various elements of curriculum are introduced including activities and themes, circle time and center activities. Play is presented as the main method for encouraging child development. Students take a look at various factors that affect young children's eating habits and stresses encouraging positive and healthy eating habits according to Canada's Food Guide.
CHILDCARE EMPLOYMENT SETTINGS
Complete ECA training from this approved program. Build employable skills to potentially work in the following Childcare settings:
Daycare Centres
Early Childhood Centres
Hospitals
Babysitting/ Childcare Environments
Live-in or Live-out Nanny Environments
Infant and Toddler In-Home Settings
Pre-school Settings
PRE-REQUISITES
Applicants of this Program must have a Canadian or USA Highschool Transcript, or must pass a qualifying test that has been approved by the Superintendent.  Students must also present a Medical Certificate to confirm they are fit to undertake the program and has up-to-date immunization, plus complete CPR and First Aid Certificates, along with Police Clearance.  All documents must be presented within 30 days of starting the program. International Students – IELTS 6.0
BREAKDOWN OF FEES
Tuition $9,400.00
OTHER $716.00
INTERNATIONAL STUDENT FEE $4,000.00
AVAILABLE SCHOLARSHIP FOR DOMESTIC STUDENTS $4,000.00
INTERNATIONAL STUDENTS $4,000.00
UNTIL MAY 31st on a first come first enroll basis.
INTERNATIONAL STUDENTS PAY IN FULL
DOMESTIC STUDENTS PAY IN FULL FOR PRICE BREAKS OR CHOOSE A PAYMENT PLAN BELOW
PAYMENT PLAN OPTION FOR DOMESTIC STUDENTS
Deposit – $900.00 by May 31st, 2023. Required to save seat for September 2023
Plus choose a monthly plan option;
6 monthly payments of $1,036.00
10 monthly payments of $621.60
12 monthly payments of $518.00
Other GLOW College Diploma Programs
Is a Rewarding Career as an Early Childhood Assistant Right For You? Get More Info…
If you're interested in learning more about careers in Makeup Artistry and exploring whether GLOW College is right for you, fill out the form on this page to receive more information.
For immediate questions, call 905-453-9456