Fashion Sewing and Garment Construction Online/In-Person Course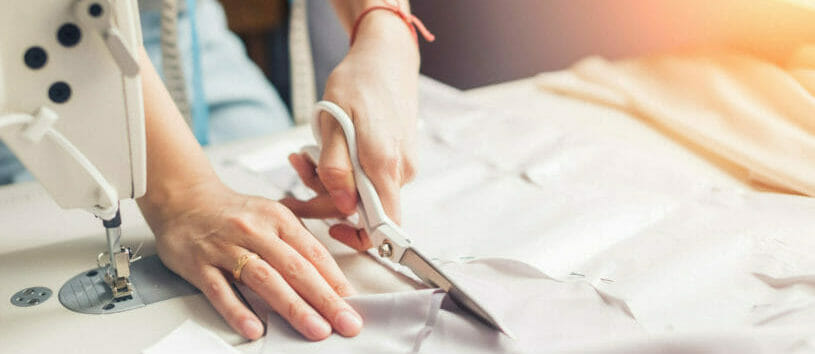 Complete theory lessons and assignments Online and come in for In Person Practicals.
Make it Official, Get Certified!
COURSE DESCRIPTION
This Fashion Garment Construction course allows students to develop hands-on skills in hand stitching and embroidery, body measuring and pattern making as well as the construction of various clothing items. Learn the art of flat and mannequin pattern making and be led into machine sewing of articles that encompass darts, zippers, pleats, elastics and sleeves.
EXPECTED OUTCOME
At the completion of this course, Students will gain a pouch, top, skirt and pants as portfolio items. Students are required to bring items to complete garment construction.
PRE-REQUISITES:
None
LEARNING METHODS:
Virtual or In Person options.
KITS AND SUPPLIES:
Equipment and supplies are provided for in-class learning. The student is required to bring fabrics for staples garment construction. Fabric purchase guidance provided in class.
PRE-LAUNCH:
While we continue building additional online lessons, enroll into this course for 25% off (regular $1800). This promo can not be combined with other offers.
Course Outline
1 COURSE INTRO

How to Manage your Time with Self-Paced Learning
How to Set Up a "Sewing Room" at Home
2 EQUIPMENT AND MATERIALS

Sewing Machine
Equipment for Sewing Machine
Cutting Tools
Notions
Mannequin
Fabric
Paper Patterns
Equipment and Materials Quiz
3 HAND SEWING STITCHING

Threading A Needle
Ending with a Knot
Running Stitch
Basting Stitch
Slip Stitch
Whip Stitch
Back Stitch
Hemming Stitch
Hand Stitching Quiz
Hand Stitching Exercise
4 MACHINE SEWING FINISHES

Setting up a Sewing Machine
What Is a Seam?
French Seam
Overcast
Folded
Bound
Machine Sewing Set Up and Seam Quiz
Sewing Finishes Practice
5 GARMENT SEWING BASIC PARTS

Creating Gathers
Inserting A Elastic
Inserting A Zipper
Facing
Pockets
Collars
Dart Tucks
Sewing Samples Assignment
6 MEASUREMENTS

Body Measurement
Pattern Chart
Body Measurements Quiz
7 PATTERN MAKING

Cost Sheet
Cost Sheet Assignment
Darts Manipulation
Darts Manipulate Assignment
Half size pattern
Slash and Spread
Slash and Spread Pattern Making Assignment
Pattern Making Quiz
8 POUCH

Pouch Bag Pattern Making
Sewing a Pouch Bag
Pouch Bag Submission
9 TOTE BAG

Tote Bag Pattern Making
Sewing and Decorating a Tote Bag
Tote Bag Submission
10 T-SHIRT

T-Shirt Pattern Making
Sewing a Round Necked T-Shirt
T-Shirt Submission
11 DRESS WITH FACING

Facing
Dress Pattern Making
Sewing a Dress With Facing
Dress with Facing Submission
12 A-LINE SKIRT

A-Line Skirt Pattern Making
Sewing an A-Line Skirt
A-Line Skirt Submission
13 FLARE SKIRT

Flare Skirt Pattern Making
Sewing a Flare Skirt
Flare Skirt Submission
14 WAISTBAND LONG PANTS

Long Pants Pattern Making
Sewing a Long Pants with Waistband
Waistband Long Pants Submission
15 JACKET

Design A Jacket
Collar
Slash and Spread
Closure
Jacket Submission
16 DRAPING

Draping vs Pattern Making
How does Draping Contribute to a Design Process?
Pleats
Draping quiz
17 NEXT STEPS

You're almost done!
Feedback

Enrollment Terms

This course is NOT subject to the Private Career Colleges Act, 2005 Choose a pricing option that suits you and start learning today. Pay in full to save or choose the monthly payment option. Fees include Tuition and free Virtual Seat assignment. Digital Certificate will be issued upon completion of all lessons, assessments, and upon final payment (where applicable). Non-refundable once paid. Supplies required for assignment completion. By enrolling into this Non-Vocational Course, you accept the Terms and Policies as outlined on the College Website www.glowcollegecanada.ca/admissions/

Is a Rewarding Career in Beauty, Design or Healthcare Right For You? Get More Info…

If you're interested in learning more about careers in Beauty, Design or Healthcare and exploring whether GLOW College is right for you, fill out the form on this page to receive more information.

For immediate questions, call 905-453-9456