Microblading Online/ Plus In-Person Course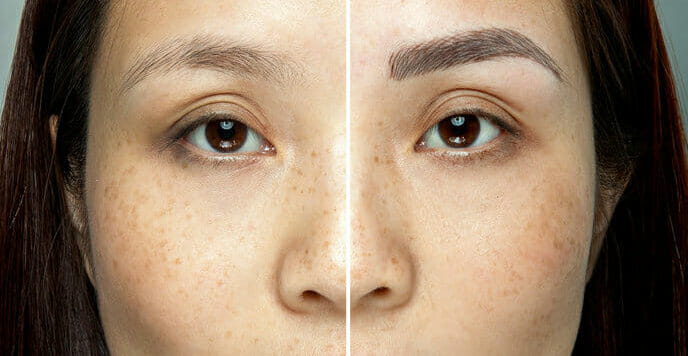 Complete theory lessons and assignments Online and come in for In Person Practicals.
Make it official, get Certified!
COURSE DESCRIPTION
Learn popular Nano Microblading techniques, also referred to as HD Embroidery Brows, and Microshading as well as an intro to Ombre or Powder Brows. This course is designed to train you on the current techniques of this low-invasive form of semi-permanent makeup artistry. Learn to create 3D hair strokes using a manual hand-held tool and an added lesson in microshading. Natural-looking eyebrows were never before this possible!
This course is designed to fully prepare you to be able to safely and effectively Microblade and Microshade Eyebrows. A certificate of Completion for this course is available only upon submission of 5 successful Microblading treatments. (Graduates may choose to return for an update course to learn Powder and Ombre brows using machine handheld technology.)
Learn with our Interactive lessons and gain life-long access to Course Content including Quizzes to test your knowledge, live Step-by-Step demonstrations and portfolio building Assignments.
EXPECTED OUTCOME
Accelerate your Beauty Business with Microblading/ Microshading skills. Learn Safety and Sanitation, Working with pressures according to the various skin types, brow mapping and effective step-by-step techniques.
Start learning theory lessons online and come in for hands-on training.  4 Days in Person. Fruits Required for pressure training on Day 2. Models Required for hands-on training on Days 1, 3 and Final Assessment on Day 4.
Day 4 Final Assessment will be scheduled upon completion of Days 1-3 plus related Assignments.
PRE-REQUISITES
None
LEARNING METHOD
BLENDED ONLINE AND IN PERSON    $3400.00 OR 8 Monthly Payments of $450.00
KIT OPTION $500.00 (Currently Included for FREE for August Enrollments at the Brampton Campus.)
Course Outline
This comprehensive course will take you from the ground up. Learn the essential theory and step-by-step techniques. Review the course outline below and start your journey towards Microblading/ Microshading Certification.
1 INTRO

How to manage your time with Self Paced learning
2 WHAT IS MICROBLADING?

Introduction to Permanent Makeup
What Is Microblading/ Microshading?
3 ROOM PREPARATION

Room Preparation & Sterilization Procedures
4 SKIN ANATOMY

Skin Anatomy
Structure of Skin
Layers of the Skin
Skin Anatomy Quiz
5 HAIR ANATOMY

The Hair Follicle
The Hair Shaft
Hair Growth Cycle
Hair Anatomy Quiz
6 BROW SHAPING FOR INDIVIDUAL FACE SHAPES

Brow Shaping For Individual Face Shapes
Eyebrow Mapping by Face Shape
Eyebrow Mapping Guide
Eyebrow Mapping Video Lesson
Brow Shaping Quiz
7 COLOR THEORY

Permanent Makeup Theory
The Color Wheel
Fitzgerald Scale
Color Harmonies
Color Reflectiveness
Elements of Color
Color Theory Quiz
8 EQUIPMENT & SUPPLIES
9 INFECTION CONTROL

Sanitation Practices
Bloodborne Pathogens
How to Disinfect Video Lesson
Sanitation and Safety Quiz
10 LEARNING TO MICROBLADE

Learning To Microblade Step by Step
11 CLIENT FORMS
12 IN PERSON CLASS ONE (3 Hours) *Bring 1 Model*

Brow Mapping
Hard Wax Brow Shaping
13 IN PERSON CLASS TWO (8 Hours) *Bring Fruits and 1 Model*

Microblading Pressure Practice (bring fruits)
Microblading Hair Stroke Practice (Card)
Microblading Hair Stroke Practice (Silicone Skin)
Client Consultation, Mapping, Numbing
14 IN PERSON CLASS THREE (8 Hours) *Bring 2 Models*

Microblading Demonstration and Practice
15 ASSIGNMENTS (Required Prior to Final Assessment)

Brow Mapping Assignment
Hair Stroke Assignment
Microblading Before and After #1
Microblading Before and After #2
Microblading Before and After #3
Microblading Before and After #4
16 FINAL IN PERSON ASSESSMENT (4 Hours) *Bring 1 Model*

Microblading Final Assessment
Submit Final Assessment Before and After Photos
Submit Final Assessment Mark Sheet
17 NEXT STEPS

You're almost done!
Feedback

Pricing Options

Pricing Options Choose a pricing option that suits you and start learning today. Pay in full to save or choose the monthly payment option. Fees include Tuition and free Virtual Seat assignment. Digital Certificate will be issued upon completion of all lessons, assessments, and upon final payment (where applicable). Non-refundable once paid. Ask about Kit purchase options. By enrolling into this Non-Vocational Course, you accept the Terms and Policies as outlined on the College webpage www.glowcollegecanada.ca/admissions/

Is a Rewarding Career in Beauty, Design or Healthcare Right For You? Get More Info…

If you're interested in learning more about careers in Beauty, Design or Healthcare and exploring whether GLOW College is right for you, fill out the form on this page to receive more information.

For immediate questions, call 905-453-9456