Get the Skills to Become a Professional Nail Technician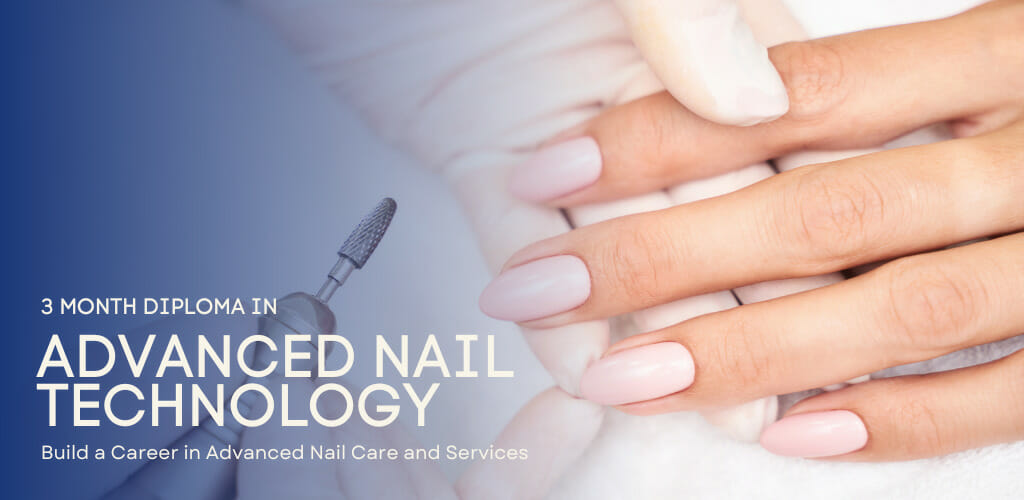 Advanced Nail Technology Diploma in Ontario
*NOW ENROLLING – ENTRY POINT EVERY MONTH*
120-Hour Vocational Program (2-3 months)
Hybrid Theory and Practical – 120 Hours Nail Technology or 264 Hours Advanced Nail Technology
Optional Clinical Practice
The best way to see if GLOW College is the right fit for you is to come and tour the school. You can tour our facilities and meet with students and instructors. Schedule a tour now or Get more info.
Become a Qualified Nail Technology Professional
With careful emphasis on job and business readiness, the Advanced Nail Technology program has been developed by Industry Professionals, screened by Subject Matter Experts and Accredited Adult Educators and is approved as a Vocational Program under the Private Career Colleges Act, 2005. A Diploma is earned upon successfully completing all modules of the program.
Complete this Diploma with a series of reading lessons online and comprehensive practical classes at the International Academy of Beauticians to master Advanced Nail Technology. Develop skills and confidence through theoretical lessons, live demonstrations and hands-on training.
Communication, Professionalism, Quality, Value. I have to say, I am so lucky to have found Glow College and my instructor Maria Bucci when I was looking for a Nail Enhancements course. I chose this class because as a beauty professional I don't like being given kits, I like to experiment and find my own things. Instead, I wanted quality education which is exactly what I received from Maria at Glow College in Brampton. I was so pleased with the amount of care and attention Maria gave to teach us every little thing we needed to know. She was so kind and patient, and encouraging, whilst telling us our faults. She doesn't falsely encourage you and send you out to make mistakes.
This Program contains 5 individual Modules/Subjects with multiple entry points. No prior Nail Technology training and experience is required. Below is a breakdown of Nail Technician school and what you can expect to learn. An Entry Point is an approved Module/ Subject where a new Student may enter the program. This program can be combined with the Advanced Esthetics Diploma program for a double major opportunity.