Get the Skills to Become a Professional Nail Technician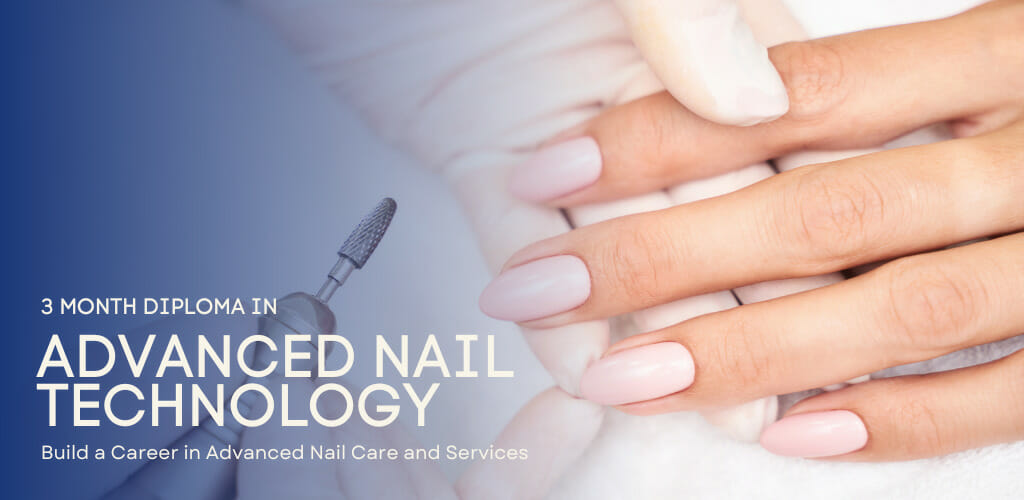 Advanced Nail Technology Diploma in Ontario
*NOW ENROLLING – ENTRY POINT EVERY MONTH*
120-HOUR VOCATIONAL PROGRAM (2-3 months)
Hybrid Theory and Practical – 120 Hours Nail Technology or 264 Hours Advanced Nail Technology
Optional Clinical Practice
With careful emphasis on job and business readiness, this vocational Program has been developed by Industry Professionals, screened by Subject Matter Experts and Accredited Adult Educators and is approved as a Vocational Program under the Private Career Colleges Act, 2005. A Diploma is earned upon successfully completing all modules of the program.
Complete this DIPLOMA with a series of reading lessons online and comprehensive practical classes at the International Academy of Beauticians to master Advanced Nail Technology. Develop skills and confidence through theoretical lessons, live demonstrations and hands-on training.
This Program contains 5 individual Modules/Subjects with multiple entry points. No prior NAIL TECHNOLOGY training and experience is required. Below is a breakdown of Nail Technician school and what you can expect to learn. An Entry Point is an approved Module/ Subject where a new Student may enter the program. This Program can be combined with the Advanced Esthetics Diploma for a double major opportunity.
The best way to see if GLOW College is the right fit for you is to come and tour the school. You can tour our facilities and meet with students and instructors. Schedule a tour now or Get more info.
SCIENCE OF NAILS MODULE (24 Hours) *Entry Point
Develop knowledge and understanding of Bacteria and Viruses, Disinfection, Sterilization, as well as Nail and Skin Diseases and Disorders. Also understand methods of infection control, Health Canada guidelines, basic first aid, general understanding of the human body and its functions, nail anatomy, as well as chemistry of nail products and enhancement systems.
NAIL SERVICES AND TREATMENTS MODULE (36 Hours)
Learn gentle Client Care, the ability to conduct in-depth nail analysis and record observations to clients' health history, and understand contraindications to applied treatments. Additionally develop skills in Basic and Spa Manicure Pedicure, French Manicures, Shellac Manicures, Exfoliation, Massage and Paraffin Treatments.
ARTIFICIAL NAIL ENHANCEMENTS MODULE (36 Hours) *Entry Point
Learn hands-on application, refill and removal techniques of popular nail enhancements systems including Acrylic nails, Gel nails and Dip nails.
ADVANCED NAIL SERVICES MODULE (24 Hours)
Develop knowledge and understanding of benefits, products and procedures of such advanced nail services as basic Reflexology, holistic nail services, and Diabetic nail services. Additionally, learn free hand and basic 3D nail design.
OPTIONAL CLINICAL PRACTICE
Students of this program have the option to join Advanced Esthetics Students, during the Nail modules to complete additional practical hours.
RE-REQUISITES
Applicants of this DIPLOMA Program must have a Canadian or USA Highschool Transcript or Diploma, or must pass a Wonderlic qualifying test that has been approved by the Superintendent.
BREAKDOWN OF NAIL SCHOOL FEES
Tuition $4,200.00
COURSE CONTENT $300.00
KITS AND SUPPLY USE $339.00
UNIFORM SCRUBS $216.00
AVAILABLE SCHOLARSHIP FOR DOMESTIC STUDENTS $1,000.00
UNTIL MAY 31st on a first come first enroll basis.
PAY IN FULL FOR PRICE BREAKS OR CHOOSE A PAYMENT PLAN BELOW
PAYMENT PLAN OPTION
Deposit 1 – $1,339.00 Required to access course content
Deposit 2 – $1,053.70 Required 4 weeks before in-person classes
Plus choose a monthly plan option;
3 monthly payments of $567.00
4 monthly payments of $425.00
Other GLOW College Diploma Programs
Is a Rewarding Career in Nail Technology Right For You? Get More Info…
If you're interested in learning more about careers in Nail Technology and exploring whether GLOW College is right for you, fill out the form on this page to receive more information.
For immediate questions, call 905-453-9456.