Get the Skills to Become a Personal Support Worker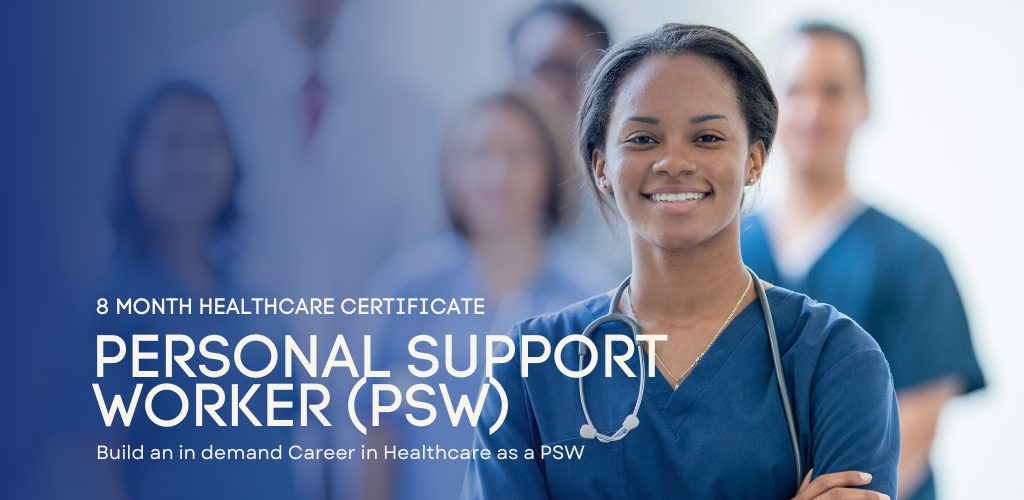 Personal Support Worker (PSW) Certificate (NAAC) Program in Ontario
*NOW ENROLLING FOR FALL SEMESTER – SEPTEMBER 2023*
SEE SCHOLARSHIP BELOW

700-Hour Vocational Program (7 months)
Hybrid Theory and Practical – 390 Hours
Clinical and Facility Placement – 310 Hours
The Personal Support Worker (PSW) program is based upon the Ontario Personal Support Worker Training Standard. The program content, standards and guidelines, combined with the clinical component of the program, ensure that the graduates have the knowledge and skills necessary to be successful as a Personal Support Worker.
This PSW program prepares graduates to provide supportive care to individuals, including clients experiencing cognitive impairment, physical disability, and mental health challenges across their lifespan by assisting them with their activities of daily living.
It has been developed by the National Association of Career Colleges and maintained by a committee of consultants, program design experts, and subject-matter experts from both the Regulated College sector, and employer groups.
The best way to see if GLOW College is the right fit for you is to come and tour the school. You can tour our facilities and meet with students and instructors. Schedule a tour now or Get more info.
Key Responsibilities of a Personal Support Worker
Practicing universal precautions while maintaining a clean working environment,
Providing emotional and social support services to care receivers and their families,
Being aware of common allergies and related first-aid measures,
Working as a supportive care worker for palliative care and hospice patients,
Observing and reporting clinical and treatment findings, behavioral changes and changes in ongoing conditions,
Maintaining records, and documenting procedures.
The Personal Support Worker program provides quality education and training for aspiring PSWs through comprehensive theory classes and practicum placements.

Scope of Responsibilities
The scope of responsibilities for a PSW is as follows:
Co-operate with all members of the health team,
Promote safety and works in a safe manner,
Assist with walking, movement and positioning,
Assist with mechanical and physical lifts and/or transfers,
Assist with personal care, personal hygiene, dressing, including laundry-related tasks,
Assist with meal preparation, grocery shopping, feeding, dietary planning, food handling,
Answer call bells,
Check and records vital signs,
Teach life skills,
Assist with a range of motion exercise and other rehabilitative measures,
Provide comfort, safety and well-being of Clients, using sensitivity and respect,
Ensure the well-being of others by demonstrating a positive attitude and ability.
Range of Services
As front-line workers, PSWs must develop a broad range of abilities. The range of services provided by PSWs depend upon the individual needs of each person they support and may include personal care such as dressing, personal hygiene, mobility, and other routine activities of living in accordance with the Regulated Health Professions Act.
Home management such as shopping, light house cleaning and meal preparation, family responsibilities such as routine caregiving to children and assisting with social and recreational activities might also be expected.
Final Theory Examination
The final examination is an online exam that evaluates the theory component of the training and determines whether the candidate has the required level of knowledge to do the job safely and effectively. The external setting for the exam and marking provide unbiased and consistent evaluation of adherence to the PSW program standard.
Exam preparation is provided. All students write the final theory examination at the end of the program placement.

Healthcare Employment Settings
Complete PSW training from this approved program. Build employable skills to potentially work in the following healthcare settings:
Hospitals
Retirement Homes
Long-Term Care Facilities
Home-Care Settings
Supportive Housing Settings
Group Homes
Adult Day Programs
Educational Facilities
Pre-Requisites
Applicants of this Program must have a Canadian or USA Highschool Transcript, or must pass a qualifying test that has been approved by the Superintendent. Students must also present a Medical Certificate to confirm they are fit to undertake the program and has up-to-date immunization, plus complete CPR and First Aid Certificates, along with Police Clearance. All documents must be presented within 30 days of starting the program. International Students – IELTS 6.0
Breakdown of Fees
Tuition $7,400.00
Books $300.00
Other $700.00
International Student Fee $3,000.00
INTERNATIONAL STUDENTS PAY IN FULL.
DOMESTIC STUDENTS PAY IN FULL FOR PRICE BREAKS OR CHOOSE A PAYMENT PLAN BELOW.
LendCare Financing
GLOW College offers a NEW 0% Financial Aid option through LendCare. LendCare offers an easy-to-use, online financing solution, with express credit decisions, accessible from anywhere you are, 24/7.
Apply Now!

To apply for Financial Aid through LendCare, please select your preferred campus from the list below. You will be directed to the application form for your chosen campus.

Click here for more information about GLOW College's financial aid options.
Other GLOW College Diploma Programs
Is a Rewarding Career as a Personal Support Worker Right For You? Get More Info…
If you're interested in learning more about a career as a Personal Support Worker and exploring whether GLOW College is right for you, fill out the form on this page to receive more information.
For immediate questions, call 905-453-9456