VALENTINE'S DAY MAKEUP CONTEST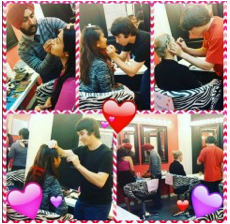 This Valentine's day our students had the chance to share their love for makeup with the person they love!
It was their partners turn to put their makeup application skills to the test (Let us see who's been paying attention!). Partners/husbands/boyfriends did their wives/girlfriends makeup. The winning couple not only got bragging rights but also a gift card to a well deserved romantic dinner. Shout out to all the partners that came out for this fun event and for being such good sports!